Vaseline Clinical Therapy Lotion
This giveaway is now closed. Thank you for your participation.
The winners are: Marissa (195), Jamaise (3), Laurie (156), Keeling (95), Connie (121)
Congratulations!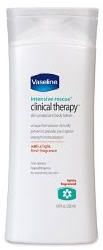 I recently had a layover in Seattle where the weather was 25 degrees and very cold! It was the perfect opportunity to try out my new sample of Vaseline Clinical Therapy Lotion.
From the site: "Clinical Therapy Lotion provides 60% more moisture than a prescription lotion, and is available without a prescription.. The best part is that it's not greasy, watered down or too thick and is available lightly fragranced and unfragranced making Clinical Therapy great for the entire family."
Okay, back to the freezing weather. Being a warm weather gal, I was totally unprepared for what I was about to encounter. After all, I spent a week in Tahoe and didn't need more than jeans and gloves. I even played in the snow with only a t-shirt on. So when I stepped outside into the mid-20s cold, talk about a culture shock. I swear my skin felt like it literally dried up in minutes. It was actually painful.
I really didn't think a lotion could make that much of a difference in such extreme weather conditions but I was wrong. When I used Vaseline Clinical Therapy Lotion, I immediately felt better. You can tell the texture is thicker than most lotions but it didn't feel greasy or oily. It just felt like there was a protective layer on your skin helping to repel the elements.
I am definitely recommending this product to all my flight attendant friends. It's perfect for layovers in cold weather or even just to use on the plane. You wouldn't believe how dry the air on the plane can be.
Vaseline is changing the lives of people everywhere. Stop by YouTube to view some amazing stories. You can also find out more about the Vaseline Clinical Therapy grass roots prescribe yourself movement at Prescribe The Nation.
Win it!
Thanks to M80 and Vaseline, I have a 6.8 fl. oz. bottle of Vaseline Clinical Therapy Lotion for 5 lucky winners! To enter:
Just mention in comments before midnight, Dec 28th who you'd prescribe Vaseline Clinical Therapy Lotion to. That's it!
A random winner will be selected and notified on Dec 29th.
The winner will have 3 days to claim their prize.
For extra entries, you may do any or all of the following. Please leave a separate comment for each extra credit that you're doing.
Subscribe to my feed.
Blog about this giveaway with a link back here and to Vaseline's YouTube page.
Place my button in your sidebar.
This giveaway is open to US addresses only.

Owner of An Island Life and Family Review Network. Wife, mother, and flight attendant . . . living a blessed life in Hawaii.