This giveaway is now closed. Thank you for your participation.
The winner is Kelli@yahoo.
Congratulations!
One thing every kid loves it's getting things in the mail. Girlie Girl is no exception. That's why we love the Tessy & Tab Reading Club.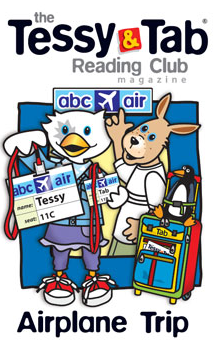 From the site: "The Tessy & Tab Reading Club is the first kids magazine subscription that promotes early independent reading for preschool children. The colorful, ad-free magazines arrive in the mail twice a month with useful parent tools and fun learning activities."
What we love most about these books is the large fonts which make reading a whole lot easier. This also ensures that you can get through the whole book in a relatively short amount of time which helps foster a feeling of accomplishment.
Our first book, Sharing New Toys, talks about playing nicely together so that everyone has fun! Each book ends with a spotlight on a particular letter and number as well as a word recognition game and a coloring page. Talk about learning fun!
The Tessy & Tab Reading Club also has a Money Manager Tool Kit which comes with two books that deal with money. It also has three cool moonjar banks for various means: sharing, saving, & spending. This helps kids understand the concept of money management.
All in all, this is a great resource for kids and parents!
Now comes the really fun part! The people of the Tessy & Tab Reading Club has generously donated:
Super Starter Pack giveaway ($19.95 value): 4 issues mailed in your first pack and then 2 issues a month for 3 months for a total of 10 issues.
Preschool Money Manager Toolkit giveaway ($19.95): includes parent tools and worksheets for the child, a 3-part bank, and 2 issues of Tessy & Tab
To enter, just stop by their site before February 1st and check out their gifts & toolkits. Then come back and mention which one is your favorite. That's it! A random winner will be selected and notified on February 2nd.
For extra entries, just subscribe to my feed and/or blog about this giveaway with a link back here and to Tessy and Tab Reading Club. Please let me know if you did the extra credit so I can make sure you're entered properly.
This giveaway is open to U.S. addresses only. Good luck!
Don't forget to enter my other current giveaways:

Owner of An Island Life. A flight attendant and mother to 3 beautiful girls. . . living a blessed life in Hawaii.