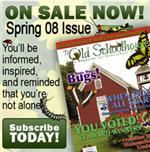 Thank you to everyone who participated in The Old Schoolhouse Magazine Subscription giveaway!
The editors of the magazine were so impressed by all the wonderful comments you left that they would like to offer all of you a free copy of this great homeschooling resource – no strings attached. To get yours, just email Gena at publisher at thehomeschoolmagazine dot com and tell them Kailani sent you. That's it!
What a great opportunity for all you amazing Homeschoolers!

Owner of An Island Life. A flight attendant and mother to 3 beautiful girls. . . living a blessed life in Hawaii.