Dog Days of Summer Bloggy Giveaway
July 24, 2007 by Kailani  
Filed under giveaways
UPDATE: THIS GIVEAWAY IS NOW CLOSED. THANK YOU FOR ALL YOUR GREAT COMMENTS!
THE WINNERS ARE: Life as a Mama (bib & burp cloth set) & Beauty for Ashes (Juicy Couture Bracelet). Congratulations!
Today is the beginning of the Dog Days of Summer Bloggy Giveaway! Woo Hoo! Free stuff!
It will be held all week and winners will be announced on Friday. For a list of participants, please stop by Rocks In My Dryer where Shannon will have a Mr. Linky up for your convenience. All you need to do is visit the various blogs and enter a comment on each giveaway post. That's it! The more giveaways you enter, the better your chances of winning something!
I've decided to give away 2 items.
The first one is a brand new Juicy Couture Gold-plated metal open-link chain bracelet. There's a toggle clasp with a signature "J" and heart charm. Retails for $35. Also comes with a Juicy Couture gift box.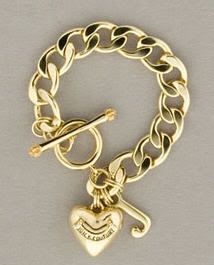 The second item is a matching Hawaiian Print Bib and Personalized Burp Cloth courtesy of my online shop Island Baby Boutique (your choice of prints).

You may enter for either or both. Just let me know in the comments below. I will ship internationally. Good luck!
Don't forget to check out my other giveaway at An Island Review.
About the author:
Kailani is the owner and founder of An Island Life. You'll find her sharing her daily life as a mother to 3 wonderful daughters, working as a flight attendant, and living a blessed life in Hawaii. She is also the founder of the group review site - Family Review Network. Follow along on her adventure of a lifetime this Winter as a member of the Vaseline Dry Skin Patrol!