This giveaway is now closed. Thank you for your participation.
The winner is comment #400: Vickie Barnett
Congratulations!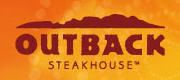 Who doesn't love Outback Steakhouse? And with their new menu that features 15 meals under 15 dollars starting at $9.95, there's even more to love. It's part of Outback's mission to provide high-quality, fresh dishes at very affordable prices. The new menu includes classic Outback signature steaks and baby back ribs as well as new boldly flavored steaks, pork, shrimp and seafood entrees.
Specifically, here are some great new items on the menu:
Savory Pepper Mill Steak: Thick slices of New York Strip Steak (cooked to order) encrusted with cracked black pepper and topped with a savory brandy cream sauce. Served atop golden potato wedges.
Sweet Glazed Roast Pork Tenderloin: Sliced slow-roasted pork Tenderloin drizzled with a sweet tangy glaze. Served with garlic mashed potatoes and fresh steamed French green beans.
Ribs and Alice Spring Chicken: a 1/3 rack of savory fall-off-the-bone baby back ribs paired with a tasty 5oz grilled chicken breast topped with bacon, honey mustard sauce, sautéed mushrooms, Monterey Jack and Cheddar. Served with Aussie Fries.
Shrimp en Fuego: Large crispy shrimp, sliced mushrooms and fresh tomatoes in a spicy, creamy sauce. Paired with fresh steamed French green beans.
With Outback Steakhouse's permission, I will now share with you their recipe for their delicious Crab Stuffed Shrimp!
Stuffing:
¼ pound Butter
¼ pound Diced Onion
¼ pound Diced Celery
1 ½ tsp. Chopped Garlic
2 Tbs. Sliced Green Onions
¼ tsp. Salt
1/8 tsp. Black Pepper
1/8 tsp. White Pepper
1 cup Bread Crumbs
¼ pound Lump Crab Meat
1. Place sauté pan over medium heat. Place butter in the pan and allow to melt.
2. Place onions, celery, garlic, green onions, and seasonings in pan and cook for 6-8 minutes.
3. Place mixture into a blender and blend for 20 seconds. Caution: Mixture will be HOT.
4. Transfer mixture to a mixing bowl adding bread crumbs and drained crab meat. Fold in with
a spatula until blended.
Lemon Pepper Butter:
½ cup Water
2 Tbs. Flour
1 ½ Tbs. Lemon Juice
½ pound Butter
1 tsp. Lemon Pepper Spice
1. Combine water, lemon juice, flour and seasonings in a sauce pan.
2. Over high flame, whisk until mixture thickens. Remove from heat.
3. Slowly add softened butter in small amounts until all is blended.
Cooking Shrimp:
1. Butterfly shrimp.
2. Place flour in a container and toss shrimp until completely coated.
3. Deep fry shrimp at 350 degrees for 1 1/2 minutes.
4. Place 1 Tbs. of hot stuffing onto each cooked shrimp.
5. Drizzle 1 Tbs. of Lemon Pepper Butter over each shrimp.
Serve and Enjoy!!!!!
WIN IT!
I have a $25 gift card to Outback Steakhouse for one lucky winner! To enter:
Just stop by Outback Steakhouse before midnight, April 18th and check out their menu.
Then come back and mention in comments which item is your favorite (excluding those mentioned above). That's it!
The random winners will be selected and notified via email on April 19th.
The winners will then have 3 days to claim their prize.
To earn extra entries, you may do one or all of the following. Each one counts as an extra ticket but you must leave a separate comment for each one.
Subscribe to my feed.
Mention this giveaway on your blog with a link back here and to Outback Steakhouse.
Place my button on your sidebar.
This giveaway is open to US addresses. Good luck!

Owner of An Island Life. A flight attendant and mother to 3 beautiful girls. . . living a blessed life in Hawaii.