This giveaway is now closed. Thank you for your participation.
The winner is comment #178: Cynthya
Congratulations!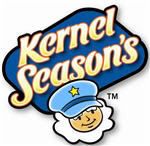 Have I ever told you how much I love popcorn? It's our family's favorite snack and we usually have it at least once a week during our movie nights at home. So when I had the opportunity to review Kernel Season's Popcorn Seasoning, I literally jumped at the chance.
PRODUCT DESCRIPTION
Kernel Season's, headquartered in Elk Grove, IL, is the number one popcorn seasoning in the country. The flavors are all natural blends made with real cheese and are offered at more than 20,000 movie theater screens nationwide as a free shake-on topping.
MY REVIEW
When I opened the box, all I could say was, "Wow!" I'm not sure what I was expecting but I couldn't believe the amount of products they sent me. So first of all, thank you so much Kernel Season's!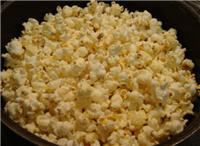 Since I don't have a popcorn maker, I opted to follow the stove-top directions. I was afraid that it wouldn't turn out as well but I was wrong. It was delicious and so easy to make. I just put some oil into a pot and put a few kernels in to gauge the temperature. Once they popped, I threw in the rest of the kernels and covered it. I would suggest you use a glass lid so that everyone can watch the fun. In a few minutes, they were done. The great thing was that there were absolutely no burnt pieces, each kernel popped perfectly fluffy!
Then came the seasoning. With 14 different toppings, how can your family choose just one? Well, with Kernel Season's you don't have to. That was the best thing about this. Because you make one big pot of plain popcorn, everyone can choose their favorite flavor. No more fighting over who gets to choose for the whole family. You gotta love that! Girlie Girl chose the regular butter, Baby Bug wanted Parmesan & garlic, and I chose kettle corn. Since DH is more health conscious he chose to eat his plain. Everyone was happy!
The bottom line is we loved Kernel Season's Popcorn Seasoning! Not only was it delicious but it was also fun to make. I don't think we'll ever go back to microwave popcorn again.
Thanks to Kernel Seasons, here are some fun popcorn craft activities for the whole family:
For just pennies, crafts with popped corn provide hours of at-home fun. Try these simple, cost-efficient activities with supplies likely to already be on hand.
Popcorn holiday sheep – draw a sheep's head and feet on construction paper. Let children fill in the body with popped popcorn. ( Adapt to any white animal shape)
Feed birds by stringing popcorn and cut up apples. Hang on a fence post for a backyard feast. Birds will use leftover string when building nests.
Form holiday shapes (pumpkins, snowmen, etc.) from a mixture of warm popcorn and melted marshmallows. Work quickly with small batches to create desired form. Embellish with candy and other food decorations.
WIN IT!
Guess what? I have a Kernel Season's Get The Party Popping prize pack for one very lucky person! This includes A bag of stovetop popping corn, Three bags of microwave popcorn, Popcorn spritzer, and Six different seasoning flavors. Yum! To enter:
Stop by Kernel Season's Popcorn Seasoning before midnight, June 13th and check out the great recipes they have. That's right! You can also use these seasonings when cooking!
Then come back and mention in comments which recipe is your favorite. That's it!
A random winner will be selected and notified via email soon thereafter.
The winner will then have 3 days to claim their prize.
To earn extra entries, you may do one or all of the following. Each one counts as an extra ticket but you must leave a separate comment for each one.
Subscribe to my feed.
Mention this giveaway on your blog with a link back here and to Kernel Season's Popcorn Seasoning.
Place my button in your sidebar.
This giveaway is open to US addresses. Good luck!

Owner of An Island Life. A flight attendant and mother to 3 beautiful girls. . . living a blessed life in Hawaii.