This giveaway is now closed. Thank you for your participation.
The winner is Eryn.
Congratulations!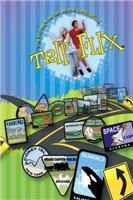 From the product: "TripFLIX is a fun-filled interactive DVD that features some of the coolest kid-friendly places to travel across the U.S. The DVD is designed to help families pick an unusual travel destination – whether it's clear across the country or right in your own backyard – and also to keep kids entertained and excited while en route. TripFLIX is packed with trivial questions, funny banter from the teen hosts/travel guides, and little known facts about destinations as varied as "Carhenge� in Nebraska and Space Camp in Huntsville, IL.�
With Summer upon us, many families will be looking for ways to entertain the kids and spend quality time together. And with high fuel prices raising the cost of airline tickets, many will probably look for alternatives closer to home. TripFLIX may have the perfect solution for you.
Besides Sea World, TripFLIX offers many off-the-beaten-path options that you may not have considered otherwise. For example, did you know that the entire city of Metropolis, IL is dedicated to the man of steel – Superman? You can even stop by and tour The Daily Globe! Or how about following in the footsteps of two of the greatest explorers who ever lived– Lewis & Clark? Fort Clapstop in Oregon will show you the campsite they set up in 1805. How's that for education?
Living in Hawaii, we probably won't be able to go on these road trips, however, the next time we travel to the Continental U.S., this valuable information will provide us with some cool kid-friendly options.
Retails at Amazon.com for $19.99.
Win yours here! I have a copy to give away to one lucky winner! To enter:
Just mention in comments your favorite summer destination before midnight, July 14th. That's it!
A random winner will be selected and notified on July 15th.
The winner will then have 3 days to claim their prize.
To earn more entries, you may do one or all of the following. Each one counts as an extra ticket and a separate comment must be left for each option.
Subscribe to my feed.
Mention this giveaway on your blog with a link back here and to TripFLIX.
Place my button in your sidebar.
This giveaway is open to everyone world-wide. Good luck!

Owner of An Island Life. A flight attendant and mother to 3 beautiful girls. . . living a blessed life in Hawaii.