This giveaway is now closed. Thank you for your participation.
The winner is A Contest Blog.
Congratulations!

If you like personalized jewelry and sentimental mementos, you'll love The Fine Art of Family.
From the site: "Our jewelry collection is designed by Monica Rich Kosann, a museum and gallery-exhibited fine art photographer who specializes in black and white portraiture of children and families. Inspired by her visits to flea markets and antique shops where she collected vintage lockets and other pieces, Monica created her own collection of lockets, jewelry and gifts designed to hold what is most precious to all of us — our memories and the images of our friends, family, and those we love."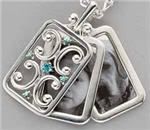 My absolute favorite item is the Silver Rectangle Gate Locket. I've always wanted a locket to keep my girls' photos in when I'm away on layovers. However, the ones I've seen in the stores seemed so mass produced and generic. This beautiful piece is inspired by the image of a child peeking through an iron gate and can hold up to 3 photos.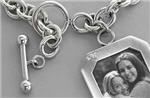 Or how about this toggle charm bracelet that holds a single precious moment to share with the world? This sterling silver bracelet is fun, stylish, and casual enough to wear every day.
If you're not one to wear jewelry, they also have accessory items like picture frames, cases, and albums, as well as key chains and silver envelopes. This sterling silver key chain features a single octagon image case charm hanging from a classic ball closure ring.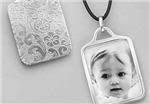 Now comes the part that you've all been waiting for! The Fine Art of Family has generously donated their popular Image Case Necklace with Cord (value $150) to one lucky winner. To enter, just stop by their online boutique before April 12th and take a look around. Then come back and mention what your favorite is. That's it! A random winner will be selected and notified on April 13th. The winner should claim their prize within 3 days of notification.
To earn extra entries, just subscribe to my feed and/or mention this giveaway on your blog with a link back here and to The Fine Art of Family. Please let me know if you're doing/did the extra credit so I can make sure you're entered properly.
Unfortunately, this giveaway is only open to US addresses. However, if you know someone who lives in the states and would be willing to have the necklace shipped to them for you, please consider entering! Good luck!

Owner of An Island Life. A flight attendant and mother to 3 beautiful girls. . . living a blessed life in Hawaii.