This giveaway is now closed. Thank you for your participation.
The winner is Summer's Nook!
Congratulations!
Ever put a hair bow in your baby girl's hair only to have it fall out soon after?
Well, Sugar and Spice has come up with the perfect solution – The Grippy Clippy. This type of hair clip was designed with fine baby hair in mind. The Grippy Clippy has a special grip strip which will hold the finest and smallest amount of hair. This clip really grips, and will stay in place all day long.
And if that's not reason enough to take a look, you should see the adorable bows & accessories they have! They have clips for birthdays, baptisms, weddings, and even holidays. They also have other hair accessories such as headbands and the absolute cutest bow holders!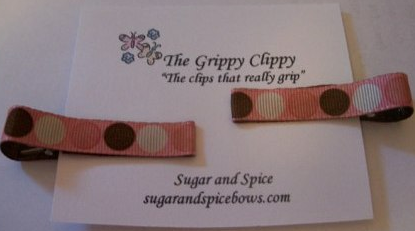 Sugar and Spice has generously donated two of their most popular clips – Emily Dots & Madelyn to one of you lucky readers. Not only that, but they're also throwing in a flower bow holder to help keep it all organized. How cool is that?
To enter, just stop by Sugar and Spice before November 12th and take a look around. Then come back here and let me know what your favorite item is. That's it! A random winner will be selected and announced on Nov 13th. This giveaway is open to everyone world-wide!
And as always, if you'd like additional entries, just subscribe to my RSS feed or post about this on your blog with a link back to this site as well as Sugar and Spice. Let me know in comments if you're doing the extra credit.
Good luck!

Owner of An Island Life. A flight attendant and mother to 3 beautiful girls. . . living a blessed life in Hawaii.