This giveaway is now closed. Thank you for your participation.
The winner is Peculiar of How do we get there from here?
I have so much respect for those who choose to homeschool especially since I know I could never do it. I don't think I have the commitment or the patience. At my school, it would probably be recess all day!The Old Schoohouse Magazine is a great resource of inspirational and practical content for all homeschooling families. This full-color 200-page, quarterly publication is designed by fellow homeschoolers who can relate to the unique challenges and issues that you face every day. They also provide you with a Schoolhouse Store to insure that you're properly equipped with everything you'll need in your schooling endeavors. Definitely a valuable one-stop place!
Some of the areas the Old Schoolhouse Magazine discusses are:
Teachers' Lounge — Get to know our "Family of Readers". Each issue includes a "Readers Helping Readers" section, featuring answers from several of our readers to a question posed by one of our readers.
Show & Tell — Meet several homeschooling families who tell a little about themselves, how they homeschool, and what they've learned. This section demonstrates that homeschoolers are certainly not all alike! You'll see a wide variety of backgrounds, circumstances, styles, and great ideas.
HomeschoolBlogger — Join our community of homeschool web bloggers to learn from others, and meet new friends—without even being online! In this column, we tap into the wealth of wisdom, wit, and creative insight in the best of recent homeschool blogs.
Show & Tell, Too — Get to know the people behind educational companies and products! Learn what they have to offer and how you can benefit from products designed especially for homeschoolers—often by homeschoolers.
Homeschool Nations — Keep up-to-date on what's happening in homeschooling news, whether it affects all homeschoolers or is especially relevant to particular states or countries. Homeschool Nation is often brought to you by a homeschooler from your location.
And many more!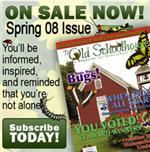 Still not convinced? How about a free 1-year subscription to the Old Schoolhouse Magazine (value $39)? To enter, just stop by The Old Schoolhouse before midnight, May 6th and take a look around. Then come back and mention what you find the most interesting about their publication. That's it! A random winner will be selected and notified on May 7th. The winner will then have 3 days to claim their prize.
To earn extra entries just subscribe to my feed and/or mention this giveaway on your blog with a link back here and to The Old Schoolhouse. Please let me know if you're doing/did the extra credit so I can make sure you're entered properly.
This giveaway is open to everyone world-wide. However, only a US address winner will receive a print subscription. If the winner is international, they will receive a digital subscription instead. Good luck!

Owner of An Island Life. A flight attendant and mother to 3 beautiful girls. . . living a blessed life in Hawaii.