Giveaway: Show Some Baby Style with Boon
November 20, 2007 by Kailani  
Filed under giveaways
This giveaway is now closed. Thank you for your participation!
The winner is Andrea of The Laughs Will Go On.
Congratulations!
When you visit the Boon site, the first thing you'll notice is the style. From bath products to jewelry to storage solutions and everything in between, Boon will equip your children with the most hip and unique products around. Take a look at these!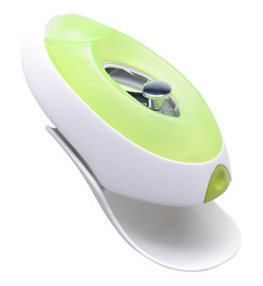 How many times have your kids hit their heads on the bathtub faucet? That will be a thing of the past thanks to Flo. This innovative product changes the flow of water so that it creats a gentle waterfall. Fill the dispenser with bubble bath and with a push of a button, you child can add some fun to bath time!
Now this is something I could have used when feeding Baby Bug. Introducing Squirt! Squirt will dispense baby food one spoonful at a time with just a squeeze. This one handed feeding solution would have allowed me to eat at the same time! It would also be great for feeding on-the-go.

Or how about a handcrafted sterling silver bracelet to add some style to your child's outfit? These unique designs make them perfect for any girl or boy.
Boon's committment is "We are driven by a strong desire to create contemporary products that help simplify parents' lives while retaining their personal style. Our team creates quality designs that are innovative, stylish, and fun." And if that wasn't enough, they donate 10% of all profits to various children's charities!
Guess what? Boon is giving away an adorable storage solution for that ever-expanding stuff animal collection. This stylish and practical pink animal bag (value $59.99) can hold all those valuable furry friends in a machine washable environment. To make this even more useful is that once it's filled, this animal bag can double as a soft bouncy seat! How cool is that?
To enter, just stop by Boon and check out all their great products before November 27th. Then come back here and mention what your favorite item is. That's it! A random winner will be selected and contacted on November 28th.
As always, you may earn extra credit by subscribing to my feed or by posting about this giveaway with a link back to An Island Life and Boon. Please let me know if you're doing/did the extra credit so that I can make sure you're entered properly.
This giveaway is open to U.S. addresses only. Good luck!

Owner of An Island Life and Family Review Network. Wife, mother, and flight attendant . . . living a blessed life in Hawaii.