Giveaway: Shop Ali Designs
May 10, 2008 by Kailani  
Filed under giveaways
This giveaway is now closed. Thank you for your participation.
The winner is Stephanie of  Mississippi Songbird. Congratulations!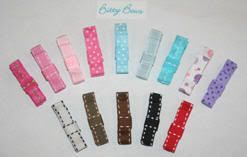 Ali Designs was born when owner and creator, Allison, wanted a solution to constantly having to pick-up toys and sippy cups that her daughter threw from where she was sitting. It's definitely something that all parents can relate to!
She started simple with an inventive toyclip and soon expanded into making hairbows, hairbow holders, and picture frames. With the support of her family and friends, Ali Designs was born.
From the site: "Ali Designs offers a variety of handcrafted boutique accessories for your little ones, including toyclips,
hairbows, hairbow holders, and picture frames. All the different accessories come in a wonderful array of colors and styles. These adorable items also make a perfect new baby, baby shower, or birthday gift."
If you take a moment to look around her site, you'll find her items to be stylish, feminine, and practical. All products made with pride from with quality materials to ensure they last a very long time.
Ali Designs has generously donated their popular Ali-Oops! Toy Clip which is approximately 10 inches in length with heavy duty snaps on either end for attachment. The longer snap end is great for tethering stuffed animals, the corners of plush books or to wrap two times around the handle of a sippy cup. The smaller snap ends works great for smaller items, such as pacifiers, rattles or teethers. The Ali-Oops! Toy Clip comes in two different sizes; the "small" style Ali-Oops! Toy Clip is made with stylish 5/8″ grosgrain ribbon and the "large" Ali-Oops! Toy Clip is made with stylish 7/8″ grosgrain ribbon.
To enter, just stop by Ali Designs before May 16th and check out all her designs. Then come back and mention which one is your favorite. That's it! A random winner will be selected and notified on May 17th. The winner will then have 3 days to claim their prize.
To earn extra entries, just subscribe to my feed and/or mention this giveaway on your blog with a link back here and to Ali Designs. Please let me know if you're doing/did the extra credit so I can make sure you're entered properly.
This giveaway is open to US addresses only. Good luck!

Owner of An Island Life and Family Review Network. Wife, mother, and flight attendant . . . living a blessed life in Hawaii.