This giveaway is now closed. Thank you for your participation.
The winner is Mary of International Freebies and Blog Contests!
Congratulations!
**I'm still having blog issues. So, when you leave a comment and receive a 404 error message, please be assured that your comment is going through. Hopefully, I can get this fixed soon.**

Is the Dad in your life a little less than technologically savvy? Well, the REDI MP3 Player may be the perfect Father's Day gift for him.
The REDI MP3 Player comes pre-loaded with about 250 songs or 6 hours of worth of tunes in various categories including Golden Classics, Rock N' Roll, R&B Collections, and the Ultimate Work-Out Mix. Perfect for those who want to start listening to music right out of the box.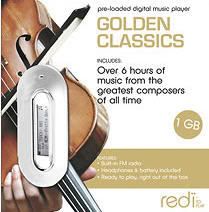 Being a gadget loving family, we were really excited to receive our player. And it was so easy to use! Just insert the AAA battery (included) and you're ready to go.
The great thing is that you're not limited only to this playlist. Using the mini USB jack, the 1GB player allows you to add more of your favorite songs from your computer files with no extra program to download. When you connect your player using the included mini USB jack, it will open up Windows Media Player (or whatever you default player is). You can then drag or import music files into your library and sync it up. Easy! In addition, it has an FM tuner so you can stay on top of all the latest news, sports, and traffic info.
These players are sold exclusively through Best Buy for $39.99. Great for Father's Day or graduation gift!
Now for the fun part. How would you like to win a REDI MP3 Player with your choice of pre-loaded music?
To enter:
Mention in comments before June 19th which playlist you'd like to win – Ultimate Workout Mix, the Ultimate Rock N' Roll Collection, the R&B Soul Collection, or Golden Classics – and who you would give it to. That's it!
A random winner will be selected and notified on June 20th.
The winner will then have 3 days to claim their prize.
To earn more entries, you may do one or all of the following. Each one counts as an extra ticket.
Subscribe to my feed.
Mention this giveaway on your blog with a link back here and to Best Buy.
Place my button in your sidebar.
Please let me know if you're doing/did the extra credit so I can make sure you're entered properly.
This giveaway is open to US addresses. Good luck!

Owner of An Island Life. A flight attendant and mother to 3 beautiful girls. . . living a blessed life in Hawaii.