This giveaway is now closed. Thank you for your participation.
The winner is Tina of Also Known As "Mom".
Congratulations!
My Precious Kids specializes in child safety products and is founded on Christian values of truth, honesty, integrity, human worth, and the value of all children. It all started when Kay needed ID cards for her homeschooled and adopted children. Now the company carries ever 100 products which protects kids, adults, and pets.
Over the years, My Precious Kids has expanded into other items for children such as feeding utensils, shopping cart covers, baby slings, bottle holders, craft kits, car seats, and many other wonderful products.
Some of my favorite picks are: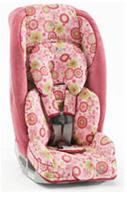 Pink Princess Car Seat: How cute is this? The Pink Princess Radian 80 car seat by Sunshine Kids is the first and only convertible car seat that can fold to a width of 7 inches. This car seat holds children to 80 pounds in a 5 point harness – the highest limit on the market. It exceeds all US safety standards for infant car seats. Higher quality stay cool fabric, more padding and infant insert.
Potty Seat Covers: Oversized potty cover to keep little fingers and bottoms from touching germy surfaces. The plastic liner underneath the potty cover blocks germs and wetness. Adhesive strips keep potty cover in place during use. Quilted top tissue on the potty cover is soft and comfortable.
Buggy Bag Shopping Cart Cover: I actually bought this when Girlie Girl was born and I loved it! This is the ORIGINAL combination shopping cart seat cover, high chair cover and diaper bag in one! It is the Cadillac of shopping cart covers. With this amazing shopping cart cover you do not even need to take a diaper bag. It is a shopping cart cover, diaper changing pad, high chair cover and diaper bag all in one. 4 elastic bottle cup holders. 2 toy loops.
Now the fun part! My Precious Kids is offering one lucky winner a chance to win an adorable Swaddle Blanket. To enter, just stop by My Precious Kids before April 16th and check out their extensive inventory. Then come back and mention what your favorite item is. That's it! A random winner will be selected and notified on April 17th. The winner should claim their prize within 3 days of being notified.
To earn extra entries, just subscribe to my feed and/or mention this giveaway on your blog with a link back here and to My Precious Kids. Please let me know if you're doing the extra credit so I can make sure you're entered properly.
This giveaway is open to US addresses only. Good luck!

Owner of An Island Life. A flight attendant and mother to 3 beautiful girls. . . living a blessed life in Hawaii.