This giveaway is now closed. Thank you for your participation.
The winner is Reeva @ gmail.
Congratulations!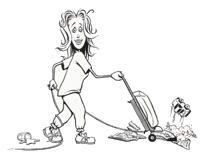 "Is the dream of raising a family turning out to be everything you'd expected? Or were you a bit shocked by the reality of Chuck E. Cheese calamities, diaper dilemmas and major mom mishaps in the mini-van like we were? "
Just one look at this busy lady and I knew she was my kind of gal. Look at her! She's cleaning, she's driving, she's shopping, she's excercising . . . she's SuperMom!
These adorable 100% cotton shirts come in short and long sleeve styles and are made to flatter a female's body. Not only will you look stylish but you'll also show the world that you have a sense of humor! These shirts come in a wide variety of colors so you can find the perfect one to suit your tastes.
The ladies at LTDchix are generously giving away a T-shirt of your choice to one lucky winner. To enter, just stop by their site before December 13th and view their designs. Then come back and mention in comments which one you like the best. That's it! A random winner will be selected and notified on December 14th.
As always, you may earn extra entries by subscribing to my feed and/or posting about this giveaway on your blog with a link back here and to LTDchix. Please let me know if you're doing/did the extra credit.
This giveaway is open to anyone world-wide! Good luck!
BTW, stop by An Island Review and check out my latest product review – the Discovery Channel's Spark Talking Telescope.

Owner of An Island Life and Family Review Network. Wife, mother, and flight attendant . . . living a blessed life in Hawaii.