Giveaway: Little Piddles
March 22, 2008 by Kailani  
Filed under giveaways
This giveaway is now closed. Thank you for your participation.
The winner is Janet Lindsey.
Congratulations!

Looking for a one-stop shopping site where you can find all kinds of fun things for your maternity and baby needs? Little Piddles was developed to help parents find products that are not only stylish but also functional. Not an easy thing to do! However, take one look at Little Piddles and I guarantee you'll find a ton of things you'll love!
Some of my favorites are:
Handy Sack – My diaper bag is so big that I sometimes have a hard time finding the things I need in a hurry. This handy sack would be perfect for helping me stay organized and keeping relevant things together. It's made from a commercially coated cotton that is stain and water repellent. The pocket is lined with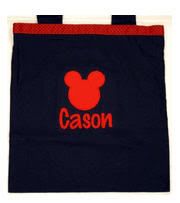 vinyl which wipes clean with a wet cloth.
Monogrammed Tote – A perfect way to take along all your child's belongings when visiting friends or Grandma! Made from canvas and can be personalized with your child's name or initials. Wouldn't this be great for your next Disneyland trip?
Business/Mommy Card Holder – Keep your cards handy with these colorful card holders. Made from a cotton print exterior, coordinating interior lining, and magnetic snap closure. You can even use these for storing your credit cards. There are so many cute designs to choose from!
Hair Accessories – Little Piddles generously sent me some adorable hair clips for my girls – Elizabeth Michelle Floral Clips & a pair of butterfly clips with rhinestones. They'll be the most stylin' girls on the playground!
Now it's your turn! Little Piddles is generously donating a $25 gift certificate to one lucky winner. To enter, just stop by Little Piddles before March 31st and check out all their products. Then come back and mention what your favorite item is. That's it! A random winner will be selected and notified on April 1st.
To earn extra entries, just subscribe to my feed and/or mention this giveaway on your blog with a link back here and to Little Piddles. Please let me know if you're doing the extra credit so I can make sure you're entered properly.
This giveaway is open to U.S. addresses only. Good luck!
However, if you can't wait to see if you've won, Little Piddles is offering a 15% discount off of all purchases until April 14th. Just use the code ANISLANDLIFE at checkout.
About the author:
Kailani is the owner and founder of An Island Life. You'll find her sharing her daily life as a mother to 3 wonderful daughters, working as a flight attendant, and living a blessed life in Hawaii.