Giveaway: Ju Ju Beane Boutique
December 29, 2007 by Kailani  
Filed under giveaways
This giveaway is now closed. Thank you for your participation.
The winners are God Gave Me You and Three P's in a Pod.
Congratulations!
One of the first things you'll notice about the Ju Ju Beane Boutique site is how fun and colorful it is! However, if you take a closer look, you'll find a treasure of wonderful items for all the special children in your life.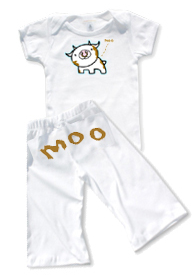 "The Ju Ju Beane Boutique features boutique children's clothing, gifts, and accessories with playful designs and casual styles for babies and toddlers from today's most popular designer labels. Fun and imaginative children's clothing, gifts, and accessories are our passion; whether it's a beautiful toile dress from Baby Nay for the girls, a sporty cargo pant set from Dogwood for toddler boys, the softest organic cotton layette for baby from Scout, or a sophisticated twist on bib and burp cloth sets from Upsiedoodle; we carry a large assortment of baby boutique clothing and toddler designer clothes, baby gifts, and accessories."
One of my absolute favorite items is the Aloha Girl: Waves Canvas Wall Art. This tropical print is very feminine without being too girlie. It's the perfect accent to any girl's room, one that will be admired for years to come. In fact, I wouldn't mind having one for myself!
Or how about this adorable Flower Pot Fill and Spill toy? Any child would love the bright colors and happy faces! To keep on top of their latest products, just sign-up on their mailing list or subscribe to their blog.
Now the fun part! Ju Ju Beane Boutique is generously giving away two $25 gift certificates! To enter, just stop by Ju Ju Beane Boutique before January 3rd and take a look around. Then come back here and mention what your favorite item is. That's it! A random winner will be selected on January 4th.
As usual, you may receive extra entries by subscribing to and/or posting about this giveaway on your blog with a link back here and to Ju Ju Beane Boutique. Please let me know if you're doing/did the extra credit so I can make sure you're entered properly.
This giveaway is open to everyone world-wide! Good luck!

Owner of An Island Life and Family Review Network. Wife, mother, and flight attendant . . . living a blessed life in Hawaii.