September 15, 2007
This giveaway is now closed. Thank you for your participation!
The winner is Zen Mother!
Congratulations!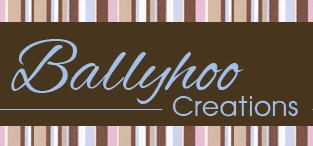 I don't know about you but I love to send out and receive cards. I'm not sure why. Maybe I like being able to hold them and read them over and over again. Maybe it's because I know that it takes a little more effort on the sender's part. Maybe I like seeing my collection of cards grow and grow.In any case, I'm always on the lookout for great cards. And what could be better than personalized cards?
Tonya, owner of Ballyhoo Creations, showed her generosity in sending me a box of the cutest personalized Mommy Cards. For those who are not familar with this new trend, Mommy Cards are like business cards for, well, Mommies. They're great to hand out at playdates, school functions, and anyone else you'd like to keep in touch with.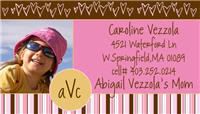 I can't really show you the ones she made for me since it has my personal information on it. However, you may take my word for it that they were absolutely gorgeous. The color and quality had me so excited to start passing them out that I immediately went to visit my next door neighbor to show them off. I was also able to put a photo of Girlie Girl and Baby Bug on them which made them even more special.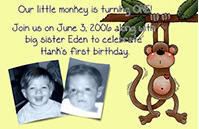 Ballyhoo Creations also has photo announcements, invitations, thank you, and holiday cards. There's something there for everyone's needs. Tonya is also the greatest person to work with. She will do everything in her power to make sure you're 100% satisfied with your card before it goes to print.
Don't believe me? Try it out for yourself! Tonya has graciously donated a set of 50 custom cards and envelopes to one lucky winner. Here are the rules:
Stop by Ballyhoo Creations and view all of her wonderful designs before September 16th.
Come back here and leave a comment mentioning which design is your favorite.
Mention this giveaway on your site with a link back to this post and Ballyhoo Creations. If you don't have a blog, just mention this giveaway to a few of your friends.
A random winner will be selected on September 17th.
Good luck!
Note from Tonya: I wanted to let everyone know that I will have a TON of new designs and a new site design up in the next day or two. I can't wait to see who wins and to create your perfect card! Good luck to everyone!
~~~~~~~~~~~~~~~~~~~~~~~~~~~~~~~~~~~~~~~~~~~~~
The Carnival of Family Life is up at My Two Boys! Please take a moment to stop by and check it out.