This giveaway is now closed. Thank you for your participation.
The winner is Our Seven Qtpies!
Congratulations!
If you're looking for some bling for that special little girl in your life, look no further than Sher's Wares.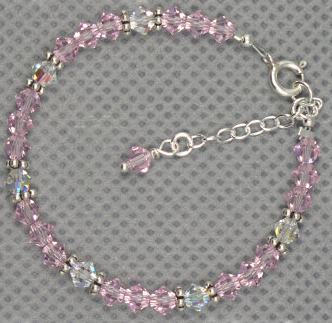 When Sherry contacted me and told me I could pick any bracelet to review, I was torn. How in the world could I pick just one from the many beautiful pieces that she has? There's everything from Baby Name Bracelets, Holiday Bracelets, Christening Bracelets, and even bracelets for flower girls. Finally, I went with the Pink Crystal Birthstone Bracelet for Girlie Girl. Believe it or not, pink is her favorite color, too!
Let me tell you, the photos just do not do these bracelets justice. We were thrilled with the quality and the way it sparkles is just amazing. Girlie Girl didn't want to take it off! And don't let the name of the store fool you. Even though they're called baby bracelets, it fit perfect on Girlie Girl with lots of room to grow. She'll be wearing it for years to come.
Guess what? Sherry is generously giving away a $25 gift certificate to one lucky winner! All you need to do is stop by Sher's Wares before October 31st and check out her site. Then come back here and mention your favorite item. Good luck narrowing it down! A random winner will be selected on November 1st. Wouldn't this make the perfect Christmas gift?

Owner of An Island Life. A flight attendant and mother to 3 beautiful girls. . . living a blessed life in Hawaii.