This giveaway is now closed. Thank you for your participation!
Congratulations to Amy of My Slice of Life!
Whether you have children of your own or looking for a great gift, Warm Biscuit Bedding Company is for you.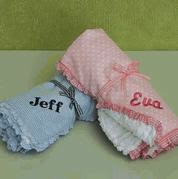 They have an extensive variety of products ranging from nursery items, kids bedding, personalized gifts, books, toys, diaper bags, and even fabrics. When I first visited the site, I didn't know where to begin! However, here are some of my favorite items:
Fabrics – Most of their quality fabrics have a vintage look to them and there are many designs that you just can't find anywhere else. And if you're looking for custom made curtains, you've come to the right place. They'll either make them for you or find someone who can.
Girlie Girls – These charming carry all purses are perfect for those little girls who want to be just like Mommy. The fabric handles make it more comfortable for them to tote around. You can even personalize it with your child's initial.
Imaginative Boys – Remember baseball of long ago with this vintage wooden baseball game. It's loaded with authentic details that evoke the grand old ballparks of yesteryear.
Seasonal – Don't forget that Halloween is coming up! Get into the spirit (get it?) with this personalized candy dish that your family will treasure for years to come.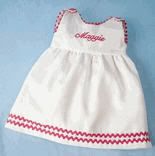 Personalized Items – Who doesn't love to see their child's name on products? These personalized towels are great for keeping everybody organized in the bathroom.
Now it's your turn to do a little virtual shopping! Just stop by Warm Biscuit before September 28th, take a look around, then come back here and mention one thing that you liked in comments below. The hard part will be narrowing it down to just one! Then mention this giveaway on your blog. I'll even make it easy for you – all you need to do is copy and paste the lines below:
How would you like to win $50 to spend in a vintage children's store? Kailani of An Island Life is holding a giveaway to Warm Biscuit Bedding Company. Stop by before midnight on September 28th for all the details.
A random winner will be selected on September 29th. Good luck!
~~~~~~~~~~~~~~~~~~~~~~~~~~~~~~~~~~~~~~~~~~~~~~~~~~~~~~~~~
Don't forget to enter my giveaway at An Island Review. You could win Toolbox for New Dads DVD and Fathering Your School-Age Child by Armon Brott.

Owner of An Island Life. A flight attendant and mother to 3 beautiful girls. . . living a blessed life in Hawaii.