This giveaway is now closed. Thank you for your participation.
The winner is Silly Mommy of 2 Silly Girls!
Congratulations!
Luckily, I've never had to live through the experience of a home fire but I can't imagine anything scarier. That's why we always make sure our fire alarms are working properly by testing them periodically. We also make sure that Girlie Girl knows what do to in case of a fire and a safe place to meet once outside.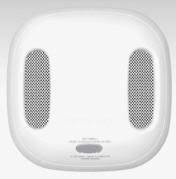 The only thing I didn't really consider is Carbon Monoxide poisoning. "Carbon Monoxide is a colourless, odorless, tasteless, toxic gas that has the molecular formula CO. The molecule consists of a carbon atom that is triply bonded to an oxygen atom. It is produced by the incomplete combustion of the fossil fuels – gas, oil, coal and wood used in boilers, engines, oil burners, gas fires, water heaters, solid fuel appliances and open fires."
Okay, now that scares me. How am I supposed to know if we have a Carbon Monoxide leak if I can't even detect it? That's where the HomeHero 2-in-1 Smoke and Carbon Monoxide Alarm comes in. Not only does it do the job of a smoke detector but it will also alert you either through beeps or bi-lingual voice commands if it detects this poisonous gas. You can install these units throughout your home and they will be wirelessly synced to make sure that eveyone is alerted of the situation.
We received one to review and it was super easy to install. Everything we needed was included except for a few basic tools. It even came with it's own batteries! However, what I liked best about this alarm system is it's sleek and stylish design. This is really important since it's usually installed in such a visible place.
How would you like to win a HomeHero Alarm and a $30 gift card to Home Depot (total value $80)? To enter, just stop by the HomeHero site before June 7th, then come back and mention in comments one Home Safety Tip that they suggest. That's it! A random winner will be selected and notified on June 8th. The winner will then have 3 days to claim their prize.
To earn extra entries, just subscribe to my feed and/or mention this giveaway on your blog with a link back here and to HomeHero. Please let me know if you're doing/did the extra credit so I can make sure you're entered properly.
This giveaway is open to US addresses only. Good luck!

Owner of An Island Life. A flight attendant and mother to 3 beautiful girls. . . living a blessed life in Hawaii.