This giveaway is now closed. Congratulations to commentor #33: Michelle Draveski!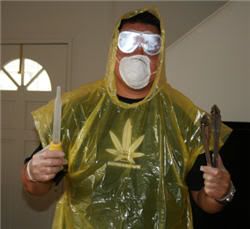 Finally, something that new Dads can appreciate and relate to . . . the Daddy Diaper Changing Toolbox. This creative idea is the brainchild of Fun Stuff 4 Babies which specializes in great products for the newest addition to your family.
With the birth of each daughter, DH has gotten better and better at changing diapers. In fact, with Baby Bug I didn't even have to threaten him to help out. However, when Girlie Girl was born he was very hesitant about diaper changes. I don't know if it's because he's never really been around babies before or because he thought it was icky. In any case, I think the Daddy Diaper Changing Toolbox would have made the task a lot easier (and fun) for him.
So what's included? Let's see . . .
Mask – toxic fume filter for when it doesn't smell like roses
Goggles – for protection against your own mini version of Old Faithful
Patent Pending Poop Poncho – need we say more?
Tongs – Several inches of steel separation between you and the little warm wrapped gift
Turkey Baster – for precision hiney washing
Ear/Nose Plugs – use with care
Pacifier – scream plug
Baby Wipes – for cleaning baby bottom and various parts
Diaper for newborn – cute as a kitten until it gets wets then it looks and smells like a sewer rat
Bio Hazard bag and rubber gloves – for quarantine containment of the nuclear meltdown
Emergency Formula Container – doubles as a PeePee cover for WeWe
Hand Wipes – to clean up afterward
Picture Frame – this is your badge of honor
Is that hilarious or what? Our favorite is the Turkey Baster! I can definitely see DH using that one to clean baby's bottom while staying as far away as possible. All of this is contained in a handy toolbox that any Dad would be proud to take along with them.
The Daddy Diaper Changing Toolbox makes a great baby shower gift, too! Most of time the Dad gets left out in all the gift giving hoopla but imagine his surprise and gratitude when he opens this one!
The Daddy Diaper Changing Toolbox can be purchased for $36.99 at Fun Stuff 4 Babies.
WIN IT!
Fun Stuff 4 Babies has generously donated a Daddy Diaper Changing Toolbox for one lucky winner! To enter:
Just mention in comments before midnight, Sept 18th your funniest diaper changing story. That's it!
A random winner will be selected and notified via email shortly thereafter.
The winner will then have 3 days to claim their prize.
To earn extra entries, you may do one or all of the following. Each one counts as an extra ticket but you must leave a separate comment for each one.
Subscribe to my feed.
Follow me on Twitter.
Place my button in your sidebar.
Mention this giveaway on your blog with a link back here and to Fun Stuff 4 Babies.
This giveaway is open to US addresses. Good luck!
This post was written as part of a program for Fun Stuff 4 Babies, who provided the product for review and giveaway. By entering this giveaway, you are acknowledging that you have read, understood, and agree to my disclosure policy.

Owner of An Island Life and Family Review Network. Wife, mother, and flight attendant . . . living a blessed life in Hawaii.