This giveaway is now closed. The winner is Kelly F. Congratulations!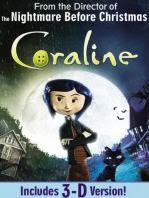 Universal Studios Home Entertainment has recently released Coraline in Blu-ray Hi-Def and 2-Disc Collector's Edition DVD featuring 2-D and 3-D versions of the movie, four pairs of 3-D glasses, plus a digital copy of the film.
MOVIE DESCRIPTION
11-year-old Coraline Jones (voiced by Dakota Fanning) has just moved with her parents (Teri Hatcher and John Hodgman) to a new home in Oregon. With no friends and her parents distracted by work, the feisty and adventurous Coraline sets out to find some excitement in her isolated new environment. She is befriended—or, as she sees it, pestered—by a local boy close to her age, Wybie Lovat (Robert Bailey Jr.) and visits her older neighbors, eccentric British actresses Miss Spink and Miss Forcible (Jennifer Saunders and Dawn French) as well as the arguably even more eccentric Russian, Mr. Bobinsky (Ian McShane). Just as she's beginning to think her new home is utterly uninteresting, she uncovers a secret door which leads to a parallel existence much like her own life—but much better. The adults, including the solicitous Other Mother (also voiced by Teri Hatcher) welcome her warmly. And Coraline gets far more attention there—even from the mysterious Cat (Keith David). She begins to think that this Other World might be where she truly belongs. But when her wondrously off-kilter, fantastical visit turns dangerous, Coraline must summon all her resourcefulness, determination and courage to get back home—and save her real family.
Want to check out something really cool? Stop by Coraline's 3-D Garden. This augmented reality site allows you to view a 3-D digital image on their computer screen that appears in yourr own hands when used in tandem with a unique print out and webcam.
WIN IT!
I have 2 lenticular Coraline cups for one lucky winner! To enter:
Just mention in comments before midnight, Aug 8th why you'd like to win this. That's it!
A random winner will be selected and notified via email shortly thereafter.
The winner will then have 3 days to claim their prize.
To earn extra entries, you may do one or all of the following. Each one counts as an extra ticket but you must leave a separate comment for each one.
Subscribe to my feed.
Follow me on Twitter.
Place my button in your sidebar.
Mention this giveaway on your blog with a link back here.
This giveaway is open to US addresses. Good luck!

Owner of An Island Life. A flight attendant and mother to 3 beautiful girls. . . living a blessed life in Hawaii.