This giveaway is now closed. Thank you for your participation.
The winner is comment #112: Lindsay
Congratulations!
We're all familiar with the expecptional results you can get with Clorox Disinfecting Wipes, right? Well, they've taken it one step further and have made these wipes not only effective but pretty, too!
Introducing Clorox Disinfecting Wipes Decor Canisters.
PRODUCT DESCRIPTION
If you've got a busy house, you know that spills and messes happen all the time. Clorox® Disinfecting Wipes are the quick and easy way to clean and disinfect anytime and anywhere.* Pre-moistened with cleaners and disinfectants, these handy household wipes are ready to use. Just wipe and let sit for 30 seconds to sanitize or 4 minutes to disinfect.* Then toss and you're done.
MY REVIEW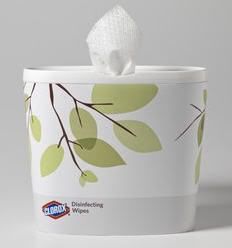 Our home is already stocked with Clorox Disinfecting Wipes. We have them under every sink in the house and use them whenever we need a quick clean-up. However, with Clorox's new Decorative Canisters I can now proudly display them anywhere! They have some great designs that go well with every single room in my house.
Better yet, since the canister is out there in the open it's now much more convenient to use. And for me, if it's convenient then I'm much more likely to use it. Isn't that the whole point?
So, check out Clorox Disinfecting Wipes Decor Canisters. They'll make a great addition to your home!
WIN IT!
I have coupons for 5 free Clorox Disinfecting Wipes Decor Canisters for one lucky person! To enter:
Just mention in comment before midnight, April 19th which room you'd put your Decor Canister in. That's it!
The random winners will be selected and notified via email on April 20th.
The winners will then have 3 days to claim their prize.
To earn extra entries, you may do one or all of the following. Each one counts as an extra ticket but you must leave a separate comment for each one.
Subscribe to my feed.
Mention this giveaway on your blog with a link back here and to Clorox Decor Canisters.
Place my button on your sidebar.
This giveaway is open to US addresses. Good luck!

Owner of An Island Life. A flight attendant and mother to 3 beautiful girls. . . living a blessed life in Hawaii.