Chicken Soup for the Soul: Tough Times, Tough People (Giveaway)
July 18, 2009 by Kailani  
Filed under giveaways
This giveaway is now closed. Congratulations to Joanne & Gloria!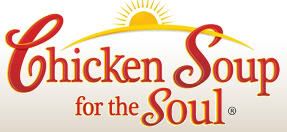 Everyone finds themselves in difficult situation at times: layoffs, natural disasters, grief, illness, economic troubles, etc. Chicken Soup for the Soul is known for stories that inspire, educate, and basically just makes you feel better. Their newest title, Tough Times, Tough People, is no exception.
BOOK DESCRIPTION
Chicken Soup for the Soul: Tough Times, Tough People (Chicken Soup for the Soul Publishing, LLC, June 2009, 978-1-935096-35-1, $14.95) reminds us that tough times won't last, but tough people will. Tough People is all about overcoming adversity, pulling together, making do with less, facing challenges, and finding new joys in a simpler life. This new collection shares tales of people who have been laid off, lost their homes, and endured wrenching life changes, but discovered the underlying gifts in their new situations. More time at home with family, creative "staycations," more satisfying job opportunities, and renewed gratitude for health and life are just a few of the silver linings these survivors have learned to cherish.
MY REVIEW
What I really loved about this book, as well as all their other titles, is that the stories are written by everyday people with everyday lives. It makes the stories that much more inspiring and makes me feel like if they can overcome their obstacles then I can, too.
I found the book easy to navigate with stories being categorized into various topics. This really helped me find just the right stories for my situation. However, the best part is that each story was only a few pages long. Perfect for when you have a few minutes to spare. My favorite section was The Power of Positive Thinking. It reminded me to always look on the bright side and hope for the best. Sometimes, positive thinking can bring upon positive results!
This book can be purchased at Amazon.com for $10.17.
WIN IT!
I have 2 copies of Chicken Soup for the Soul: Tough Times, Tough People to give away. To enter:
Just mention in comments before midnight, July 26th why you'd like to win this book. That's it!
A random winner will be selected and notified via email shortly thereafter.
The winner will then have 3 days to claim their prize.
To earn extra entries, you may do one or all of the following. Each one counts as an extra ticket but you must leave a separate comment for each one.
Subscribe to my feed.
Follow me on Twitter.
Place my button in your sidebar.
Mention this giveaway on your blog with a link back here and to Chicken Soup for the Soul.
This giveaway is open to US & Canadian addresses. Good luck!
About the author:
Kailani is the owner and founder of An Island Life. You'll find her sharing her daily life as a mother to 3 wonderful daughters, working as a flight attendant, and living a blessed life in Hawaii. She is also the founder of the group review site - Family Review Network. Follow along on her adventure of a lifetime this Winter as a member of the Vaseline Dry Skin Patrol!