Chicken Soup for the Soul: Count Your Blessings Giveaway
This giveaway is now closed. Congratulations to commentor #153: Helen S!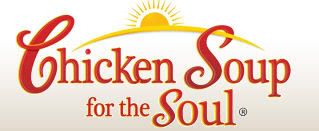 During this past year, many things may not have gone as I had planned but one thing is for sure . . . I was blessed for so many reasons. Sometimes the hardest part is focusing on the good rather than the bad and Chicken Soup for the Soul: Count Your Blessings is a great way to help you appreciate all the wonderful things and people in your life.
BOOK DESCRIPTION
This follow-on book to Tough Times, Tough People continues Chicken Soup for the Soul's focus on inspiration and hope in these difficult times. These inspirational stories remind us that each day holds something to be thankful for – whether it is having the sun shine or having food on the table. Power outages and storms, health scares and illnesses, job woes and financial insecurities, housing challenges and family worries test us all. But there is always a silver lining. These stories of optimism, faith, and strength remind us of the simple pleasures of family, home, health, and inexpensive good times.
OUR REVIEW
If you're looking for an uplifting and inspiring book to ring in the New Year, this is it. The stories in Chicken Soup for the Soul: Count Your Blessings will help you focus on what really matters . . . family, friends, and faith.
Like all the other Chicken Soup books, there are 101 short stories which makes this book an easy read. Sit down when all is quiet or grab it when you have a spare minute or two. Either way, you'll be glad you did. These stories will help you see the good in things and approach your life with a positive attitude.
My favorite story was "Everything Makes Sense in Reverse" by Rebecca Hill. I've always believed that everything happens for a reason even if I don't understand it at the time. I know that one day I'll look back and it will all make sense. In this story, Rebecca falls ill to a serious disease which forces her to make some drastic changes in her life. She doesn't understand why she's the victim to all these adversities but in the end she finds that these necessary changes she's made allowed her to spend precious time with a loved one before it was too late.
So if you're looking for a feel good book, check out Chicken Soup for the Soul: Count Your Blessings. It can be purchased on Amazon.com for $10.17.
WIN IT!
I have a copy of Chicken Soup for the Soul: Count Your Blessings to give away to one lucky person! To enter:
Just mention in comments before midnight, Jan 3rd something you're grateful for. That's it!
A random winner will be selected and notified via email shortly thereafter.
The winner will then have 2 days to claim their prize.
To earn extra entries, you may do one or all of the following. Each one counts as an extra ticket but you must leave a separate comment for each one.
Subscribe to An Island Life's feed.
Follow Island Life on Twitter.
Tweet this giveaway.
Become a Facebook Fan.
Place our button in your sidebar.
Mention this giveaway on your blog with a link back here and to Chicken Soup for the Soul.
This giveaway is open to everyone world-wide! Good luck!
This post was written for Chicken Soup for The Soul who provided the item for review and giveaway. I was not compensated in any way except for the complimentary product. By entering this giveaway, you are acknowledging that you have read, understood, and agree to our disclosure policy
About the author:
Owner and founder of An Island Life. Sharing my life as a mother to 3 wonderful daughters, working as a flight attendant, and living a blessed life in Hawaii.