Chicken Soup for the Soul Books Giveaway
I have always loved the Chicken Soup for the Soul books. They have a way of  making you see things from a different perspective and showing you the good side of things. Best of all, they're written in short chapters so you can read as much or as little as you want. There's no major time committment on your part.
I recently had the opportunity to check out a few more of their titles and found them all to be exactly what I've come to expect from this series of books. Excellent stories that made me laugh, cry, and appreciate all that I have. I hope they do the same for you, too.
Teacher Tales: This is a great gift for new and experienced teachers, providing them a morale boost and the knowledge they are appreciated. The teaching industry has embraced this book, and more than half the stories are from "celebrity" teachers, including all of the 2009 State Teachers of the Year and the 2009 National Teacher of the Year. There is a lot of buzz about this book in the teaching industry and those teachers who don't receive it as a gift are sure to buy it for themselves, to read these 101 true stories by great teachers and appreciative students, with lots of laughs, poignant moments, and some tears too.
NASCAR: Racing fans will get all revved up for this latest Chicken Soup book! Chicken Soup for the Soul has teamed up with NASCAR to celebrate America's fastest growing sport with the release of Chicken Soup for the Soul of NASCAR. Their collective efforts are sure to make this the next bestseller! Michael Waltrip says, "Life is a team sport" and, indeed, auto racing is a metaphor for life. Everyone needs the support and love of their own pit crew to keep them on track and in winning form as they go through their own race every day.
Chicken Soup for the Soul of NASCAR features 101 great stories of speed, courage, dedication and overcoming adversity. Buckle up for the fastest moving Chicken Soup for the Soul book ever as many of the sports' biggest names, including Jeff Gordon and Bobby Labonte, take us inside the race car for one inspirational and uplifting story after another. Chicken Soup for the Soul of NASCAR will take the checkered flag when it hits bookshelves in the spring of 2003!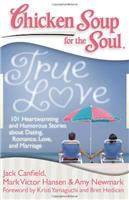 True Love: Everyone loves a good love story. And we all love stories about how the love started and blossomed. This fun new book about dating, romance, love, and marriage, will make you laugh and make you cry, and is guaranteed to inspire you to renew that search for your soul mate or open your heart a little more to the one you already have. Read about how couples met, when "they knew", good and bad dates, proposals, maintaining the relationship, second chances, and all the other ups and downs of love, romance and marriage.
WIN IT!
I have a copy of each of these books to give away to (3) winners – one book each winner. To enter:
Just mention in comments before midnight, Feb 26th which book(s) you'd like to win. That's it!
A random winner will be selected and notified via email shortly thereafter.
The winner will then have 2 days to claim their prize.
To earn extra entries, you may do one or all of the following. Each one counts as an extra ticket but you must leave a separate comment for each one.
Subscribe to An Island Life's feed.
Follow Island Life on Twitter.
Tweet this giveaway.
Become a Facebook Fan.
Place our button in your sidebar.
Help me win the Wash Them Grow contest.
Mention this giveaway on your blog with a link back here and to Bebe Au Lait.
This giveaway is open to everyone world-wide! Good luck!
This post was written for Chicken Soup for the Soul who provided the item for review and giveaway. I was not compensated in any way except for the complimentary product. By entering this giveaway, you are acknowledging that you have read, understood, and agree to our disclosure policy.
About the author:
Owner and founder of An Island Life. Sharing my life as a mother to 3 wonderful daughters, working as a flight attendant, and living a blessed life in Hawaii.