This giveaway is now closed. Thank you for your participation.
The winner is comment #51: Melissa Thomson.
Congratulations!
Love cooking Italian food? Then you definitely need a copy of Carrabba's Italian Grill's Ciao Y'all Cookbook. Ciao Y'all is designed for everyday cooks who just love good food.
PRODUCT DESCRIPTION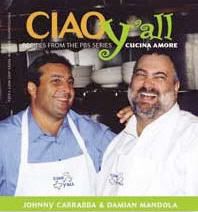 Carrabba and Mandola deliver the best of Italian cooking straight from the Heart of Texas: Stracotto, extraordinary Pork Pot Roast; Zucchini Gialli Gratinati; Pesce Arroste, Whole Roasted Fish; Pasta e Polpette con Sugo di Pomodoro, Pasta with Meatballs and Sunday Gravy; Bruchetta; Caponata; Minestrone; pastas, pizzas, Polenta; Tiramisu; Canoli and Zabaglione. Johnny and Damian also present their creative interpretations of traditional Italian dishes mingled with Gulf seafood, Texas beef, blended with Creole, Cajun, TexMex and Texas Southern seasonings—inspiring and spectacular! Ciao Y'all!
Want a sample of one of these mouth-watering recipes? Check this out!
CHICKEN BRYAN (Single Serving)
Ingredients:
1 chicken breasts, boneless, skinless
2 tsp salt
3 tsp pepper
4 Tbsp. Olive Oil
2 Oz Goat Cheese
2 Oz Lemon Butter Sauce
10- 12 pieces Sundried Tomatoes
2 Tbsp. fresh basil, chopped
Instructions:
Season chicken on both sides with salt and pepper.
Dab with olive oil.
Grill chicken until cooked to a minimum internal temperature of 165 degrees. Then place goat cheese on each side of the breast and continue to cook until warm.
To a sauté pan add the lemon butter sauce, sundried tomatoes, and the basil. Place over medium flame until hot. Do not overheat or sauce will break.
When done, place chicken on a hot plate with grill spatula and spoon sauce over. Accompany chicken with choice of side.
Lemon Butter Sauce
Ingredients:
4 Tbsp. butter
2 tsp onion, chopped
2 tsp fresh garlic chopped
3 Tbsp. white wine
4 Tbsp. fresh lemon juice
Pinch White pepper to taste
Instructions:
In a sauté pan place 1 Tbsp. butter, sauté onions and garlic until softened. Add white wine and lemon juice; simmer approximately 10 minutes on medium-low heat to reduce. A little at a time, add remaining 3 Tbsp. butter until butter melts and mixture emulsifies. Enjoy!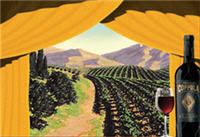 In addition, you can enter to win Carrabba's "Toasts to Dad" contest to celebrate dads this Father's Day for a chance to win a wine-themed prize package. Carrabba's Italian Grill is inviting consumers to write a brief toast to dad for the chance to win a four-night trip with their dad to Napa Valley, including a tour of the Rubicon Estate, a case of Coppola wine and dinner with Coppola's winemaker. Ten runners up will celebrate with dad closer to home with dinner for four and Coppola wine at Carrabba's. And, as another reason to say salute orcheers to dad, all contest entrants will receive a certificate for a free appetizer valid on a future Carrabba's visit. Consumers can enter the "Toast to Dad" from June 1 to June 30, 2009 by posting their toast at www.carrabbas.com.
WIN IT!
How would you like to win a copy of Carrabba's Italian Grill's Ciao Y'all Cookbook? To enter:
Stop mention in comments before midnight, June 21st what your favorite Italian dish is. That's it!
A random winner will be selected and notified via email soon thereafter.
The winner will then have 3 days to claim their prize.
To earn extra entries, you may do one or all of the following. Each one counts as an extra ticket but you must leave a separate comment for each one.
Subscribe to my feed.
Mention this giveaway on your blog with a link back here and to Carrabba's Italian Grill.
Follow me on Twitter.
Place my button in your sidebar.
This giveaway is open to US addresses. Good luck!

Owner of An Island Life. A flight attendant and mother to 3 beautiful girls. . . living a blessed life in Hawaii.