This giveaway is now closed. Congratulations to commentor #185 Holly W!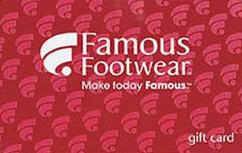 How many of you out there love shoes? Did you know that Famous Footwear is known for their name brand shoes at affordable prices? Well, this Summer they're combining our love for shoes and ice cream on its site Make Today Unexpected, which gives us women the chance to discover our style and flavor in a most unexpected way.
I stopped by the site and took their short quiz. Turns out I"m Mella Caramella! "A flavor like this is best appreciated while curled up on the couch. A Mella Caramella like you is happiest when laying low, taking it easy, or a combination of both. While others are caught up in the hustle and bustle of life, you can't seem to find any reason why a perfectly good bubble bath should go to waste. So keep your bearpaws handy and let the silence do the talking."
I can't wait to hear what your flavor is when you enter this stylish, not to mention FABULOUS, giveaway!
Giveaway
Grand Prize
This week, Famous Footwear is awarding one lucky winner with a $100 gift card. Shoes anyone? (See Entry Requirements below.)
Coupon
Everyone's a winner in this giveaway! Make your back-to-school shoe shopping spree a little more affordable by visiting MakeTodayUnexpected.com and entering to receive $10.00 off your next purchase of $50.00 or more.
Entry Requirements
To enter for a chance to win the $100 Famous Footwear gift card, please do these four things before Aug 30th. (Please make sure you leave a separate comment for each of your entries).
Note: Entries that do not follow all of these requirements will not be considered.
Take the 'Find Your Flavor' quiz by clicking here. Leave a comment on this post with your flavor and e-mail address.
Become a fan of the Famous Footwear's Make Today Unexpected Facebook Page. (http://www.facebook.com/pages/Make-Today-Famous/112646406371?ref=ts)
Follow @maketodayfamous on Twitter.
Post these messages on Facebook and/or on Twitter and leave comments here, linking to your messages:
Join #gno 8/25 from 9-11 ET 2 chat shoes & ice cream w/ @famous_footwear & @maketodayfamous. RSVP: http://bit.ly/wsRrC PLS RT

Download Famous Footwear coupon 4 back-to-school/fall savings: http://bit.ly/fogQH PLS RT #gno
Extra Entries
You can earn up to two extra entries for this week's giveaway. Leave an additional comment for each.
Click here and become a Famous Footwear REWARDS club member (free).
Post or tweet about something unexpected that has happened to make your day or week more positive on @maketodayfamous or on the Make Today Unexpected Facebook Page.
The Fine Print
No purchase necessary to enter. Famous Footwear and Mom It Forward employees, and giveaway hostesses are ineligible to participate. Entries that do not follow all of the entry requirements will not be considered.

Owner of An Island Life. A flight attendant and mother to 3 beautiful girls. . . living a blessed life in Hawaii.