kajeet Cellular Phones for Kids (Giveaway)
This giveaway is now closed. Thank you for your participation.
The winner is comment #187: Richard
Congratulations!
Girlie Girl is already asking for a cellular phone and although I still think she's too young to have one 24/7, I can see some of the benefits especially if it's a kajeet.
PRODUCT DESCRIPTION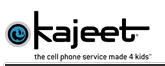 We believe kids are smart. At kajeet our entire philosophy springs from this simple core idea. We want kids to be agile with technology. We want kids to have fun. We want them to be empowered and safe, and we want to help them respond with confidence to what's happening in their world. Not incidentally, we want their parents and guardians to be involved too. Because having a cell phone is not just fun, it's a responsibility – a shared responsibility. So we've designed kajeet to incorporate a full suite of tools to help families customize and manage every aspect of their kajeet experience.
MY REVIEW
Thanks to kajeet, we received a pink Sanyo Katana II already hooked up to the kajeet system. Everything was already set-up for us and all I had to do was charge the phone. I have to say I was amazed at the Katana II! It looks just like an adult's flip phone with all the same bells and whistles – text messaging, digital zoom camera, speaker phone, & bluetooth. The pink was such a pretty feminine shade that I was tempted to use it myself!
Because this phone is designed for kids, there's no contract, activation fees, or early termination fees.  I can control how much this phone can be used depending on how well she's doing in school or around the house. However, the best thing about kajeet is the GPS phone locator capabilities. This way I can go online and find out where the phone and/or my child is at all times. Talk about piece of mind!
I did let Girlie Girl take the phone with her when she went outside to play or at a friend's house. This way I could call her when it was time for her to come home or she could call me whenever she wanted to. The TimeManager was also very useful because it allowed me to restrict calls to just a few hours a day. This way I could make sure she wouldn't receive calls after bedtime or during school hours.
I found the quality of the phone to be excellent and so easy to use. The little animated welcome screen was adorable and Girlie Girl loved the little characters that danced around the screen. Surprisingly, the wireless phone service was great, too! There weren't any dropped calls or lost signals. I can't say the same for my iPhone.
The only downside is that the phone doesn't have a local phone number which meant that Girlie Girl had to memorize 10 numbers instead of 7. Not a big deal since you're not charged roaming fees but it was a little confusing for her in the beginning. However, since she REALLY wanted to use this phone she made it a point to memorize her phone number really quickly.
Monthly plans start at only $4.99/month or you can choose pay-as-you-go. Either way it's a great deal. And depending on how responsible your children are, you can always add or subtract minutes to their plans. It's all up to you. You're in control.
WIN IT!
How would you like to win a kajeet Sanyo Katana II (black) cellular phone + temporary included air time for your child? To enter:
Just stop by the kajeet site before midnight, March 8th and check out their rate plans.
Then come back and mention in comments which plan you would subscribe to if you won. That's it!
A random winner will be selected and notified via email on March 9th.
The winner will then have 3 days to claim their prize.
To earn extra entries, you may do one or all of the following. Each one counts as an extra ticket but you must leave a separate comment for each one.
Subscribe to my feed.
Mention this giveaway on your blog with a link back here and to kajeet.
Place my button in your sidebar.
This giveaway is open to US addresses. Good luck!
About the author:
Kailani is the owner and founder of An Island Life. You'll find her sharing her daily life as a mother to 3 wonderful daughters, working as a flight attendant, and living a blessed life in Hawaii.