If you're like me, your Christmas tree went up the day after Thanksgiving (hey, at least I waited that long). I love Christmas and all the festivities that go with it. That's why I've decided to once again host the 2008 Christmas Tree Decorating Contest.
Here's how it works:
You have from now until Dec 12th to submit your Christmas Tree photos. Just come here and add your url to your actual entry post on the Mr. Linky below.
The voting will start on Dec 13th and run till Friday the 16th.
You can only vote once so get all your friends to vote for you, too!
Winners will be announced on Dec 18th.
You must place this button in your sidebar.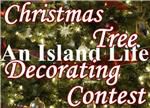 What does the winner get? How about a 30GB Red Zune MP3 Player? Cool, huh? This unit stores up to 7,500 songs, 25,000 pictures or 100 hours of video** (128 Kbps). It's ultracompact and measures just 0.6″ thin and weighs 5 oz. It also comes with a neoprene case with a clear window, belt clip, and a sport-ready armband. Retails for $199.99.
So, if you haven't gotten your tree up yet, better get crackin'. Christmas will be here before you know it!
Happy Holidays!

Owner of An Island Life. A flight attendant and mother to 3 beautiful girls. . . living a blessed life in Hawaii.