March 2, 2008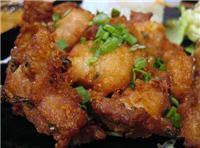 In Hawaii, if there's one thing we all love it's Pot Lucks.
Pot Lucks are when a group of people get together and everyone brings a dish to share. One of my all-time favorite contributions is Mochiko Chicken. It's really easy to make and it's always the hit of the party.
5 pounds chicken thighs, deboned, (or chicken wings)
4 eggs, beaten
10 tablespoons shoyu
6 tablespoons sugar
8 tablespoons mochiko
8 tablespoons cornstarch
4 cloves garlic, minced
1 teaspoon salt
1/2 cup green onion, finely chopped
1 tablespoon sesame seeds
1 teaspoon fresh ginger, grated
oil for frying
Mix everything (except chicken and oil). Marinate chicken for 5 hours or overnight in refrigerator. Fry chicken in 1-inch hot oil until golden brown on both sides. Cool and cut into slices.
Note: If desired, discard chicken skins before marinating. Tastes great with or without skin and it can be prepared a day ahead. This is one of the all time favorites with locals.
Update: I'm so sorry, I didn't even think about people not being able to get shoyu or mochiko where they live. I'm sure you could get shoyu in any asian-type store and if you really want to make this, I could send you a box of mochiko (it's a type of flour) from Hawaii. Just let me know.