That was the basic message of this morning's meeting.
We spent the day at the Pampers BabyCare Education Center in Cincinnati where we attended various conferences, toured the facilities, and even did a little hands-on product testing all while being followed around by our very own camera crew. It almost made you feel like part of a reality television show. It was a little hard to act normal when there was a huge mic hanging over my head.
It started with the introduction of some of the top people working behind-the-scenes that make everything work:
Jane Wildman, Global Vice-President, Pampers
Liza Sanchez, Director of Product Development
Bruce Jones, Global Director of Product Quality
Kim Yates, Sr. Brand Manager North America BabyCare
Carlos DeJesus, Marketing Director, BabyCare
Bryan McCleary, Director of External Relations, BabyCare
What really impressed me was the way these people just love their jobs and the company they work for. I mean, it could all be an act but I highly doubt it. If you heard the passion and enthusiasm in their voices, you would know these are genuine people who really want to know what the Mommy Blogging community is all about, our ideas, what we have to say. And I'm not saying that just because I got a free trip to Cincinnati, I was truly impressed with what they do.
Their goal is to make a tired mom smile. After all, a happy baby is a happy mom, right? And there's nothing happier than a well-rested baby. How do you help accomplish that? By keeping the baby's diaper as dry as possible. It's also been proven that a baby who sleeps through the night has a better cognitive development in the morning. I wonder if that applies to Moms as well? That sure could explain a few things.
One of the areas we talked about is product development. Since babies can't tell you, "Hey Mom, that elastic is cutting off circulation in my legs." or "Um, I keep taking off my diaper because it's uncomfortable.", the people at BabyCare take great interest in studying the movements and reactions of babies in order to get an idea of what works and what doesn't.
While we were there, we were able to attend a focus group of moms with babies testing out the diapers. Basically, they diapered their child, discussed what they liked and didn't like about the overall design, let their children play for a while, and then observed how it held up. They then take these constructive criticisms and develop a prototype diaper which we got to see being made by hand, layer by layer, including the way they attach the elastic leg openings, side tabs, and even how they put on the character logo. It took 2 women about 10 minutes to make just one diaper. Pretty cool.
But for me, the interesting part was product testing. They took 2 diapers – Luvs and the "other leading brand – and tested them side-by-side. They poured blue water in each one at the same time and let it sit for a couple of minutes. You could see how the Luvs diapers instantly absorbed the liquid while the "other leading brand" only absorbed a portion of it. They then place a piece of paper on the wetness with a weight equal to a baby on top of that. In the end, there was nothing left of the liquid in the Luvs diaper. Even when I touched the lining, I couldn't feel any wetness. I don't even want to tell you how much liquid rolled off the "other leading brand". Needless to say, I'm going to be switching to Pampers as soon as I get home. Maybe then I won't get peed on during our plane rides. Hmmm . . . I wonder how they would hold up in the swimming pool?
*shhh* Yes, I'm a Huggies user and always have been. Of course, I didn't tell them this but it's really not because I thought Huggies was better, it was more of a cost issue for me. Huggies is sold at Costco, Pampers isn't. Why? Apparently, a while back Costco used to sell both Huggies and Pampers. However, Costco wanted to take these exact diapers and also sell them under their independent label, Kirkland. Pampers decided that they didn't like the idea of deceiving the public and decided to pull their products from the shelves. And that was the end of that.
So in the end, we tried to convince P&G that they needed to get their word out to the Mommy Bloggers without sounding like they were pitching a campaign. If you were there, you would have seen that they were real people with real stories. They were a passionate group who believe in and love what they do. They are trying to make the lives of moms easier. Gotta love them for that, right?
My new friends at P&G and the other Mommy Bloggers will probably be reading this and they want to know what you think. How can P&G reach out to the community and share their passion with you without sounding like a commercial?
Stay tuned for more posts on:
Pampers and the environment
Unicef's One Pack = One Vaccination Campaign
And a wrap-up of the conference including photos of the awesome Mommy Bloggers I've met!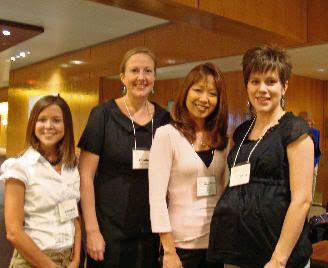 Amanda of A Petite Mommy Blog, Heather of Lil Sugar, Me, Amanda of Oh, Amanda
Update: Luvs is also made by Procter & Gamble. They're marketed as "Ultra leak protection for less than the pricey brands." However, now that I think about it, wouldn't those "pricey brands" also include Pampers? I'll email P&G to find out. Thanks for your questions!

Owner of An Island Life. A flight attendant and mother to 3 beautiful girls. . . living a blessed life in Hawaii.