Whenever someone asks what you're thankful for, what do you immediately think of? Your family? Your health? Your freedom?
Those are the things that I think of, too. However, I was reading a local publication called Island Family Magazine and they had an article about being thankful for the things that we normally wouldn't be thankful for.
For example:
Why not be thankful that your child's soccer team lost their last game? It is important that your children have experiences of both winning and losing. By losing, children have the opportunity to learn to handle defeat and bounce back next time. With your help, they can learn that winning or losing is not a measure of who and what they are as human beings. Appreciate the opportunity the loss brings and be grateful for it.
Why not be thankful that your youngsters track mud and sand into the garage and house? The next time you stand in the garage furiously sweeping sand and wishing that your children were better behaved, quietly remind yourself that one day you'll wish you had sand to sweep out of the garage. Love the mud. Love the sand. Be grateful for the signs of the presence of children in your life.
Why not be thankful that you got to stay home with a sick child last week? You didn't have to stay home. You got to stay home. You didn't have to take him to the doctor. You got to take him to the doctor. You got to show him you care enough to drive all over town to the doctors, the pharmacists and back home again. You got to be with your boy while he was sick. Chalk it up as a blessing.
Why not give thanks that your child is spilling milk, talking with her mouth full, wiping cranberry sauce on her new dress, refusing to eat her vegetables, and interrupting her grandmother at the dinner table this day? It means you have more work to do as a parent. This is a blessing. You are still needed to help your child learn to pour her milk more carefully, improve her table manners, learn to eat nutritiously, and show respect for elders. Give thanks for these opportunities.
Can you think of any more to add to this list?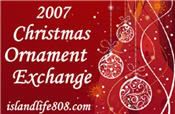 Owner of An Island Life. A flight attendant and mother to 3 beautiful girls. . . living a blessed life in Hawaii.