Generation Text: Raising Well-Adjusted Kids in an Age of Instant Everything
This giveaway is now closed. Thank you for your participation.
The winners are Sharon Jones & Becca's Backyard.
Congratulations!
Girlie Girl and I were watching television the other day when a commercial came on trying to sell a make-it-yourself bling kit.
"I want that!", she said.

"Add it to your wish list and maybe Santa will bring it for Christmas."

"Mommy, you can order it online. It says so on the commercial. It could be here by Saturday!"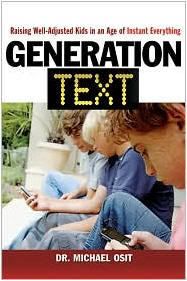 Generation Text by Dr. Michael Osit explores today's electronic culture where kids are exposed to 24/7 "instant gratification". In a world of internet-ready cell phones, text messaging, emails, and online commerce, no longer do they have to wait for something they want. With a couple of clicks, they can place an order, make payment, and have an item shipped directly to their front door.
However, he also agrees that all this technology is not always a bad thing as he discusses the positive influences the internet has on developing social skills, a healthy identity, and a sense of purpose and accountability.
From the book: "Parents who want to ensure that their children successfully develop key social skills, a healthy identity, and a strong work ethic need to make the right choices every step of the way. Clinical psychologist Dr. Michael Osit draws on his professional—as well as personal—experiences working with children and teens who have been challenged by unprece­dent­ed access to information, possessions, and temptation. Using case studies and examples, the book provides reasonable, down-to-earth strategies readers can use to address the unique issues faced by children surrounded by infinite choices…and very few limits."
What I really liked about this book is they way it was written. Dr. Osit's writing is funny, to the point, and entertaining. He explains his points using real dialogue and believable examples that almost everyone with kids have already experienced or will soon be. He also gives you workable advice and strategies that can be incorporated in your daily life as you deal with your child's addiction to various electronic gadgets, including gaming. I mean, what child doesn't have a Wii, XBox, PSP or Ninendo DS? I know I'm guilty of exposing my kids to electronics at an early age. Baby Bug can barely speak but she can play a mean game of Mario Bros.
I found this book to be a valuable asset and a great resource to which I know I'll be referring to for years to come. It can be purchased at Amazon.com for $14.96.
Thank you to AMACOM Books for this great review opportunity!
Win it!
I have 2 copies of Generation Text for 2 lucky winners. To enter:
Just mention in comments before midnight, Sept 27th why you want to win this book. That's it!
A random winner will be selected and notified on Sept 28th.
The winner will then have 3 days to claim their prize.
To earn more entries, you may do one or all of the following. Each one counts as an extra ticket. Please leave a separate comment for each extra entry.
Subscribe to my feed.
Mention this giveaway on your blog with a link back here and to Amacom Books.
Place my button in your sidebar.
This giveaway is open to everyone world-wide! Good luck
About the author:
Kailani is the owner and founder of An Island Life. You'll find her sharing her daily life as a mother to 3 wonderful daughters, working as a flight attendant, and living a blessed life in Hawaii. She is also the founder of the group review site - Family Review Network. Follow along on her adventure of a lifetime this Winter as a member of the Vaseline Dry Skin Patrol!