Yup, I just told Mrs. Earthworm about my blog and she's already trying to take over. *Just kidding Mom!* Anyway, she was so inspired by all the curious comments on a previous WW post – From My Parent's Garden – that she decided to put a little something together.Please welcome my Mom in her blogging debut.
Hi, Everyone (or Bloggers?):
Kailani mentioned that some of you were curious about some of the names of the orchids in the photos listed on her blog and asked us if we would like to comment on them…so here we are. We will refer to ourselves as Mr. and Mrs. EW (short for Mr. and Mrs. Earthworm—the good kind for your gardens).
Photo #1. This pretty pink cluster of small blossoms sits on top of a thin (but sturdy) stem that moves with the wind and are called Epidendrum orchids. They are also sometimes known as "Pink Ladies� or "Dancing Ladies.�
Photo #2. Anthuriums. These hardy and somewhat waxy flowers are in a class by themselves. They are lovely, long-lasting flowers that can last for over a month as cut flowers in clean water in a vase. They come in a variety of vibrant colors. It is truly a beautiful heart-shaped plant, although there is a misconception that the red heart-shape is the flower, but, in actuality, it is called the spathe which is a modified leaf to the heart-shaped green leaves as shown in the background in the photo. The true flowers emerge on the spadix (the narrow stem that protrudes downwards) but are seldom seen by the naked eye because they are so tiny and will eventually fall off and tiny berries will be formed.
To Tishia Lee: Your grandma was right, they are also called "little boy� flowers (isn't that precious?). Always listen to your grandparents; especially grandmas, they are the wisest people on earth and know EVERYTHING! (LOL)
Photo #3. Pineapples. Our pineapples are grown in containers. Mr. EW brought home a pineapple and cut the crown (top) off and put it in a can of water (water needs to be changed at least every couple of days to prevent mosquitoes from breeding) and after several weeks, roots will appear and then it can be planted in a container or ground.
To Christine of Are We There Yet: This "baby� pineapple won't be such a baby in another 6-8 months. Mr. EW says it takes about 18 months for it to grow into a full-grown pineapple. So in another 6-8 months, it should turn a golden orange color then it's ready to harvest (yum—there's nothing like home-grown fruits.).
I so envy those of you on the mainland who can grow apples, pears, peaches, cherries and all those wonderful fruits and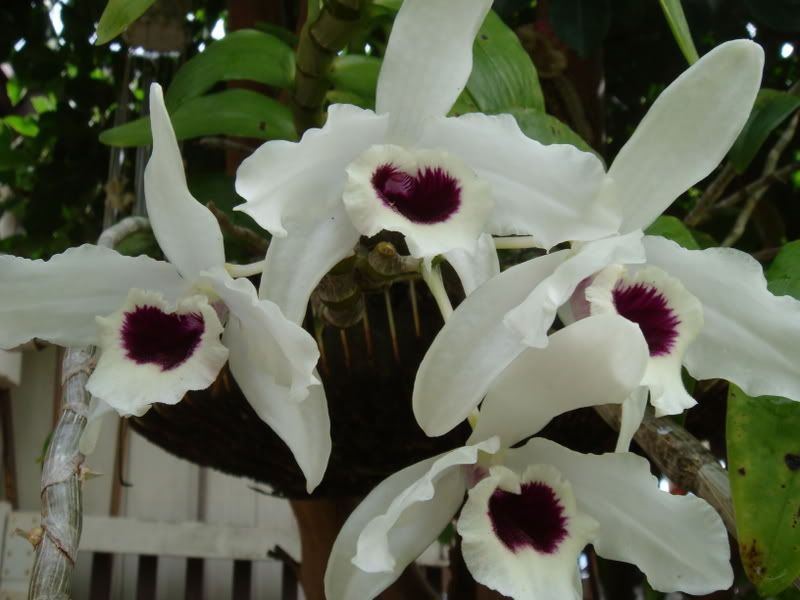 flowers, like daffodils, irises and tulips that we, in Hawaii, can't or have a difficult time growing.
Photo 4. These lovely white with purple lip orchids are called Dendrobium Nobile. Ladies of Hawaii love to wear them in their hair. They have a nice fragrance.
Photo #5. Similar description as in Photo #1, but is just another variety called an Epidendrum (banguense) orchid with clusters of red-orange blossoms.
Photo #6. These inflorescences of vibrant yellow flowers are called Doritaenopsis Sogo Manager orchids (quite a mouthful, isn't it?).
Tips:
1. For a sweeter pineapple after slicing off the top and skinned, sprinkle a little salt and rub it around the whole pineapple, then slice into chunks and chill. It will make your pineapple taste a little sweeter (trust me).
2. Pineapples are high in acidity, so make sure you always wash your hands after eating these delicious fruits. Avoid touching your eyes while eating them or they will swell up (not a pretty sight); otherwise…ENJOY! BTW, same goes for mangoes. Of course, don't eat any of these fruits if you have some kind of allergic reactions to them like hives or a rash.
Wow! Didn't mean to ramble on. Hope we were able to answer your questions and thank you for letting us be part of your blog.
Mr. and Mrs. Earthworm
Spotlight Comment from Sher of Everything Moms: Wow Mrs. Earthworm…sounds like you've been blogging for years! Great job! Thanks for the wonderful education. I love the idea of growing a pineapple like you indicated. I think I might just have to do that. Welcome to the blogosphere! Hope to see you around a lot. Maybe you'll even start your own blog. But be careful….it can be addicting. lol

Owner of An Island Life. A flight attendant and mother to 3 beautiful girls. . . living a blessed life in Hawaii.