Giveaway: Cool Prizes from T-Mobile, Crate & Barrel
Exciting news! As most of you have probably already heard, T-Mobile is breaking into the residential phone market. Their new plan is called T-Mobile@Home and for $10/month you'll get free nationwide calling, call waiting, caller ID & voicemail. You'l even be able to keep your same home phone number! Not a bad deal, huh?

To celebrate this exciting venture, T-Mobile is giving away a brand new home worth $300,000 to two unbelievably lucky people. One winner will be announced on ABC's The View and the second on T-Mobile's mirco-site. There are other prizes, too, including funds to pay your current mortgage for a month! You have until July 29th to get your entries in.
Now, how is An Island Life involved in all of this? Glad you asked.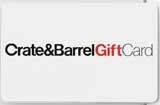 The wonderful people at Digital Influence Group (DIG) have asked me to host a little giveaway of my own to help spread the word about this amazing venture. From now until July 28th, you may enter to win daily T-Mobile prizes such as t-shirts, candles, blankets, coffee mugs, and many other cool items. Then, once a week for the next 2 weeks, a random person will be selected to receive either a $100 T-Mobile gift card or $100 to Crate & Barrel. All these prizes have been reserved and will be awarded to An Island Life participants. How cool is that?
To enter, simply check out the widget at the end of this post and answer a simple question. You must submit your answer via the widget in order to be eligible. Don't forget to enter your name and email address so I can contact you in case you win. **Your personal info will NOT be sold to third parties.**
And while you're there, at the bottom of the widget is a link to the T-Mobile site where you can enter to win a brand new home. Hey, someone has to win it . . . it might as well be you! Oh yeah, and if you do win the home, I expect an invitation to the housewarming party!
About the author:
Kailani is the owner and founder of An Island Life. You'll find her sharing her daily life as a mother to 3 wonderful daughters, working as a flight attendant, and living a blessed life in Hawaii.