Sticky: Bloggy Hoss Elections '07
July 4, 2007 by Kailani  
Filed under contests
**Please scroll down for newer posts**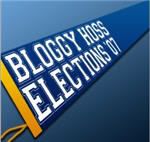 I've heard it time and time again . . . the Blogosphere is just like high school. Well, to prove it, I'm holding the 1st Annual Bloggy Hoss Election.
If you're around my age, you'll probably remember this high school contest where the winners got a cartoon character drawn of them and published in the yearbook. How I longed to be Miss Popularity. *sigh* It never happened. Believe it or not, I was very shy back then.
It's now 25 years later (for me anyway) and I'm giving all of you a second chance at going for that prestigious award. And even though I'm sure a lot of you were actually poplular in high school, I won't hold that against you. hee hee
In any case, here are the categories:
Most Athletic
Class Clown
Brainiest
Most Popular
Most Likely to Succeed
Most Artistic
Head Cheerleader
Nicest Personality
Most Talkative
Best Looking (Site Design)
Rules:
From now until July 5th, you may nominate one blog for each catergory using my contact form above (all nominations will be held confidential).
You cannot nominate yourself. Therefore, post a link back and have your friends submit your blog!
The top 3 nominees in each category will then be announced on July 6th.
From July 7th till July 10th, a poll will be posted here and you may vote for one blog in each category, once per day. Get all your friends to vote for you, too!
The blog with the most votes wins. Winners will be announced on July 11th. You'll recieve a cool button to prove how popular you are!
So, go and check out your blogrolls to see who fits into the above categories. May the best blogs win!
About the author:
Kailani is the owner and founder of An Island Life. You'll find her sharing her daily life as a mother to 3 wonderful daughters, working as a flight attendant, and living a blessed life in Hawaii.