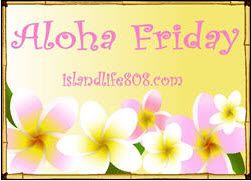 Welcome to this week's edition of Aloha Friday.
In Hawaii, Aloha Friday is the day that we take it easy and look forward to the weekend. So I thought that on Fridays I would take it easy on posting, too. Therefore, I'll ask a simple question for you to answer. Nothing that requires a lengthy response.
If you'd like to participate, just post your own question on your blog and leave your link below. Don't forget to visit the other participants! It's a great way to make new bloggy friends!
My question is:
Are you or did you go shopping on Black Friday? Got any great deals?
Me? I'm staying as far away from the stores as possible. I went shopping on Black Friday just once before and I will never do it again. People were yelling at each other and at the store workers, children were being pushed aside, and I literally feared that I'd be trampled on. I'm all for great deals and saving money but this is not the way I want to start the holiday season. Just give me a laptop and a credit card and I'm a happy girl.

Owner of An Island Life. A flight attendant and mother to 3 beautiful girls. . . living a blessed life in Hawaii.