February 5, 2008
Congratulations to Tara's View of the World - this month's winner of the Casting Call Auditions. Her tight rope performance really wow'd the judges! Check it out for yourself:
I am climbing the ladder to my tight rope high above the ground. I am dressed in a fabulous sparkly pink sequined outfit that shows off my perfectly formed size 2 body. I reach the top of the ladder and take a bow to my thousands of cheering fans.

I step out onto the tight rope and walk gracefully to the middle of the rope. I am poised in mid air… and I raise my arms and do a back flip landing perfectly on the tight rope. The audience gasps and applauds.

I poise gracefully and then walk on my hands to the other side doing marvellous balancing poses along the way.

I reach the other side of the tight rope and gracefully step onto the platform. I wave and bow to my adoring fans.

Thank-you thank-you thank-you….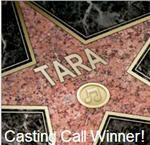 *Standing ovation* And don't you just love her choice of costumes? Pink and sparkly is always a great combination in my book! As a reward, the amazing Tara has won a permanent place in my blogroll (clap clap), a spot on my sidebar (w00t!), and a star on the Island Walk-of-Fame (cheers!).
Tara is a Pastor's wife and Mommy to 3 adorable children. As we all know, children tend to have a mind of their own and her youngest, Olivia, is definitely proof of that. Stop by and check out what she has decided to add to her daily diet. You won't believe it! LOL! Don't forget to congratulate her on her awesome performance.
The next Casting Call Auditions will be held on March 1st. Hope to see you there!