If you're visiting via 5 Minutes for Mom's Ultimate Blog Party, you're in the right place. So please come in (don't forget to leave your shoes at the door . . . and no trading up when you leave) and make yourself at home. Please excuse the condition of my home. Ever since the morning sickness has kicked in, housework is pretty much last on my priority list.
As you've probably already guessed, I was born and raised on the island of Oahu in the beautiful state of Hawaii. I've been married for 8 years and have two wonderful daughters – Girlie Girl age 7 & Baby Bug age 3. We also have another one on the way with a due date of Halloween! Ahhh, our own little goblin. I'm currently on maternity leave from my job as a flight attendant. It's the best job in the world and I truly miss it.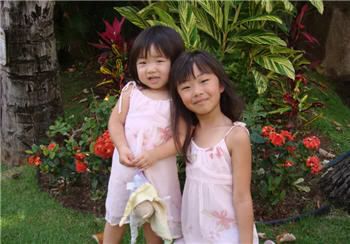 Here at An Island Life, you'll find me rambling about my daily life in paradise as well as offering some great giveaways from some very generous sponsors. It's also the home of the popular Aloha Friday Meme where we're always looking for new friends to join us.
So while you're here, take a look around  . . . I don't mind. Just stay away from my danger zone closets – you'll never know what may fall out. ;-p
It's currently in the upper 70′s so enjoy the sunshine while you're here. And don't forget to sign the guest book (Mr. Linky) before you leave. I'll be giving away a box of chocolate covered macadamia nuts to 3 lucky visitors! Open to everyone world-wide!
Hope to see you around again soon!
Prizes I'm hoping to win: #58 Stand Up Mixer, #19 $50 to Target, #15 ChicBuds. I'd also love to win #21 $50 Target, #22 $50 Target, #26 $30 Target, #41 Photo Tile Necklace, #50 Paperlicious, #82 Personalized Announcements, USC #15 $20 Amazon, USC #56 $25 Target, USC #12 Boon Prize Pack. *crossing fingers*

Owner of An Island Life. A flight attendant and mother to 3 beautiful girls. . . living a blessed life in Hawaii.