The Ultimate Blog Party 2008 & A Giveaway
This giveaway is now closed. Thank you for your participation.
The winner is Shannon of God Gave Me You.
Congratulations!

If you're visiting from 5 Minutes for Mom's Ultimate Blog Party ~ Welcome to An Island Life! Don't forget to take off your shoes at the door and no upgrading to a better pair when it's time to leave.
For those who don't know me, here's a little info about myself. My name is Kailani and I've been blogging for about 2 years now. It started as a way to get a free application download for my smartphone because the company wanted me to post a review of their product. At the time, I didn't even know what a blog was! With the help of another blogger, I signed up with Blogger, published the review, got my free program, and eventually got sucked into the blogosphere, never to return to my normal life again.
You can usually find me blogging about my two amazing daughters – Girlie Girl who will be 6 next week & my two-year old Baby Bug. When they're not providing me with amusing blog fodder, I also write about my experiences working as a flight attendant, daily life in Hawaii, my Aloha Friday Meme, or hosting weekly giveaways. In fact, I have a few great ones going on right now for a $300 gift certificate to Mommy Tags, $50 to Warm Biscuit Bedding Company, My Friends Tigger & Pooh Friendly Tails DVD & The Diaper Clutch. Please feel free to enter any of these and to subscribe to my feed for future ones!
You can also find me at An Island Review where I post product reviews, more giveaways, and a daily listing of contests and giveaways from around the internet. And if you're looking for even more cool blogging links, stop by my weekly column called 5 Minutes Around the Blogosphere every Sunday.
Now for the giveaway part. I donated a baby set (#97) to the party which includes a diaper pouch, changing pad, bib, & personalized burp cloth from my online store, Island Baby Boutique. You can head on over to the prize page to view even more cool prizes! However, I've decided to give away a second set here as well. If interested, please leave a comment below. The winner will be able to select a fabric of their choice from here or here. Good luck!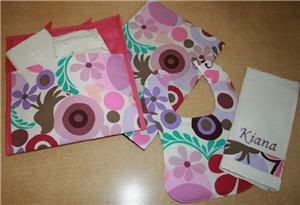 As for me, I'd love to win one of these:
#60 – $25 to Amazon.com
#117 – $25 to Target
#61 – Lunchbox
#20 – $50 to Paperlicious
#32 – LDXchix Tee
So, enough about me. Why don't you tell me a little about yourself?
Mahalo for stopping by and I hope to see you again soon. A hui hou!

Owner of An Island Life and Family Review Network. Wife, mother, and flight attendant . . . living a blessed life in Hawaii.