Hey everyone! My apologies for the lack of posting but I'm on a 36 hour layover with one of my best friends and we're having a wonderful shopping spree! I got the most amazing deals on ROXY clothes and backpacks, Lucky Jeans, and COACH! We also hit Target, Pottery Barn, Crate & Barrel, and Trader Joes – all the stores we don't have in Hawaii! What a great weekend! The best part? Having a nice quiet dinner at Olive Garden without having to scold anyone for throwing their food or running around the restaurant. Not that my kids ever do that! *wink*
Anyway, I thought I'd take this opportunity to recognize these amazing bloggers and thank them for their acknowledgement and friendship.
Tagged:
To do the Middle Name Meme by momto3cubs and A Bookworm's Diary . You can view my previous post here.
Laura Williams' Musings would like to see the "Face Behind the Blog". I really don't post too many photos of me but you can find one here.
Katja would like to see the view from my window. I'll definitely work on that when I get back home.
Recognition:
Hugs From The Earth Award from Whitterer on Autisim.
The Nice Blogger Award from A Bookworm's Diary.
I really appreciate you thinking of me. You're the reason I'm addicted to blogging and never leave the house anymore. Well, except for when I'm shopping.
Don't forget to stop by 5 Minutes Around The Blogosphere to see what's going on this week!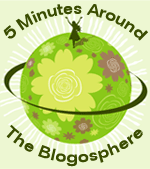 Owner of An Island Life. A flight attendant and mother to 3 beautiful girls. . . living a blessed life in Hawaii.