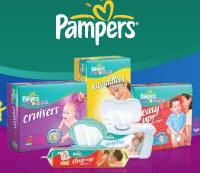 As you know, I travel for a living. However, I have a trip coming up that has got me very excited! Why?
I'm headed to the Procter & Gamble Headquarters in Cincinnati, Ohio on an all expense paid trip to attend The Pampers Mommy Bloggers Event! How cool is that? And did I mention it's ALL EXPENSES PAID?
It's all happening at the end of July where 15 Mommy Bloggers will have the opportunity to meet with Pampers Executives to discuss their products, charitable partnerships, and their dedication to mommies and babies throughout the world. We'll be going on private tours as well as attending discussions, presentations, and dinners. They're even setting aside time for us to blog!
So now I'm off to do a little research on the company and it's affiliations. After all, I don't want to look like a complete dork while I'm there! Does anyone have any questions, concerns, or suggestions that you'd like me to address with Pampers? Just let me know.

Owner of An Island Life. A flight attendant and mother to 3 beautiful girls. . . living a blessed life in Hawaii.