5 Minutes Around The Blogosphere
September 16, 2007 by Kailani  
Filed under blogging
For those who have been wondering about the mysterious project I've been working on, here it is: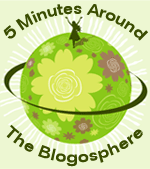 Believe it or not, I'm the new feature columnist at 5 Minutes for Mom. How cool is that? It's called 5 Minutes Around The Blogosphere and will showcase the best contests, informative posts, and interesting happenings throughout the Blogosphere.
The best part is that not only will it include things I come across while bloghopping, but also recommendations from you! So if you know of something that you feel other Moms would be interested in, email me at features5minutesformom[at]gmail[dot]com. Please keep in mind that due to space constraints, not all submissions may be included.
Hope you enjoy it!
BTW, please stop by and say Hi! I kind of feel like the new kid in school. hee hee
About the author:
Owner and founder of An Island Life. Sharing my life as a mother to 3 wonderful daughters, working as a flight attendant, and living a blessed life in Hawaii.