About the Show

Dallas-based Manners Expert and Dallas Morning News Manners Columnist Elise McVeigh will unveil her latest project on October 21: the debut of "Mrs. McVeigh's Magnificent Manners Show."  This 30-minute children's DVD on manners is based on "Mrs. McVeigh's Manners," a division of Elise McVeigh's Life Camp, which teaches children ages 2-11 and university aged students manners in a fun and unique way. The DVD is being produced by Dreamfly Productions.
"I am thrilled to produce this DVD for children and parents throughout the country, just in time for the holiday season," McVeigh said.
"Manners are an important process in society, and everyone should have basic manners for the dinner table and at social gatherings."  In addition, parents often find it difficult to teach children good manners.  I have found that demonstration and role-playing are the most effective ways to teach children manners and life skills."
When "Mrs. McVeigh" teams up with her wacky temporary assistant, Professor Maynard (pronounced "Mannered" when he is Mrs. McVeigh's assistant), she shows the good Professor how to do things the right way.  Your kids will laugh and relate to Professor Maynard as he learns throughout the DVD what demonstrating good manners really mean. The lessons include meeting and greeting, restaurant manners, table manners, how to set a table, how to write a thank you note, and more!
Members of the public may pre-order the DVD through McVeigh's website,
mrsmcveighsmanners.com, or through amazon.com (as of October 10)
Manners expert Elise McVeigh has been teaching manners classes to children since 2003.  She brings her classes to life with demonstration and role-play for children on this 30-minute interactive DVD. Elise McVeigh currently resides in Dallas, Texas, and is the owner of Mrs. McVeigh's Manners, a division of Elise McVeigh's Life Camp, a seminar company for moms and their children.  In addition, she writes a Manners Column for the Dallas Morning News' NeighborsGo section where thousands of people read her advice on manners and getting organized. Professor Maynard, played by Richard Means, is a professional actor with the Kim Dawson Agency.
My Take on the Show
What parent wouldn't say that their child could use some manners lessons every now and again and this DVD is a great example of a teaching tool that is fun to watch and the kids really like it. I let my daughters watch this and they were engrossed! I also found that after they watched this, they actually were more polite and we ended up having a few great conversations about the topics that were covered.
As mentioned above this DVD was quite interactive and I tended to find that that the kids really did get involved with the characters and they were definitely different from watching the show itself. All I can say is that I wish this show was on in the Midwest!
The author received a complimentary product to facilitate his review. He was not monetarily compensated.
About the Game

"Every day, 17,000 children sustain injuries that could have been prevented; and preventable childhood injury is the leading cause of death and disability for kids ages 1 to 14."[1] The Play It Safe game can help prevent these tragedies while families have a fun game night together.
Introducing the Play It Safe family board game – the game about everything safety – covering first aid, natural disasters, Internet, strangers, transportation, survival, wild animals, fire, water, and more! This is a valuable, educational, and fun game designed for children and parents.
The only game that could save lives.
A unique family game that is a true discovery for your holiday toy list.
Bring the family together with a fun and valuable game night.
Extra features like the fingerprint and DNA ID cards, fire escape plan, Internet interface, personal ID cards, and 1st-Aid guide provide life-long value.
It's chock full of safety questions with detailed answers (300 for kids, 300 for adults) that really could save lives.
We keep it fun for kids by making a third of their questions about wilderness survival and dangerous animals.
Adults will be surprised at how much they don't know about safety – the kids will surely win!
Families are looking for togetherness and good value in these hard times – promote family game night with something more valuable and interesting.
It's green, using recycled paper and vegetable based ink.
Website and product details: www.playitsafegame.com
My Take on the Game

This game was amazing! The game itself is full of facts that I was not even aware of, and my eldest daughter (Diva-J) was kicking J-Mom and my butt on answering her questions (as they are on her level).
As a parent I am always trying to teach my kids about what they can do to stay safe, and this game is not only fun, but it makes you think. We ended up playing the game for quite some time and then we played the game again to see if the questions continue to keep the game interactive and fun, they did! This is definitely a family game that is engaging for all ages! I highly recommend it!
Receive FREE shipping on your next order. Just use the code frnship when checking out.
This post was written for Play It Safe who provided the complimentary product in exchange for my honest opinions.
About the Program

Capture anything you see on your PC screen!
Don't waste time cropping your captures. Take a "snapshot" of anything exactly what you need, with just a click.
Easy to Learn, Easy to Use!
Using SnapIt Screen Capture Software takes just three simple steps:
1. Start the program (click on the program's icon). It appears minimized in a system tray: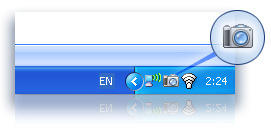 2. Click PrtScr (Print Screen) button and select with mouse what you need to capture on the screen. After selecting the region it is automatically copied to the clipboard.
3. Save a snapshot from the clipboard with any way you like:
Open Microsoft Word and create new document. Press Ctrl+v combination and paste image from the clipboard to the document. Technical Writers often use this approach to describe program interfaces.
Open Photoshop. Create new image file or open existed image file. Simply paste captured image from the clipboard (press Ctrl+v combination). This approach is convenient for Graphic Designers in order to make collages.
Right mouse click on the SnapIt icon in a system tray and you will see the menu bellow. Choose "Save As" and save captured image as bmp, png, gif, jpg, etc file.
4. Use the Properties menu to define the hot key you want to press to take your screenshots
The most powerful feature of SnapIt:
In menu Properties you may switch on "Auto save images" option. It means that every time you capture image on your PC screen you don't need to save it! It will be saved automatically in the selected folder with selected image type. It is a very convenient feature for web designers who surf the Internet for new graphic ideas and want to save them in their local collection with one click.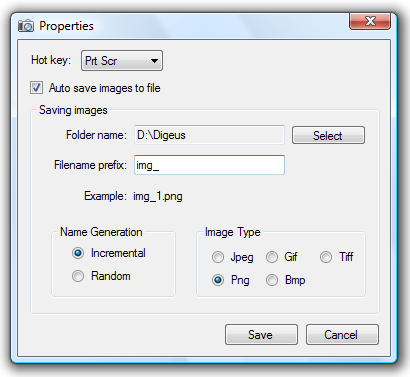 Top features:
Supports hotkeys, auto-saving, clipboard
Automatically copies screenshots to the clipboard
Saves files in

BMP

,

GIF

,

JPEG

,

PNG

and

TIFF

formats
Irreplaceable tool for Designers, Office Workers, Business People, Analysts and more
Perfect for Technical Writers who have to describe interfaces, menus, buttons, etc.
Try SnapIt for FREE!
Discover how easy it is to take a "snapshot" of anything exactly what you need on your PC screen!
My Take on the Game

This program was one that was so simple to use. Simply with a touch of one key and the swipe of a mouse and you are ready to capture images. When I tried out this program, it was as simple as I mentioned and with the swipe of my mouse I was able to capture only what I wanted to keep instead of the entire screen itself. This was one main reason that I really liked this program. In the past, I only used the full screen print, and without other software programs you were not completely able to manipulated the image. This program changes this completely. and makes it easy to use, install and simply mark the areas on screen that you need! Overall a great program, and you can even try out the program for free.
SnapIt is offering a FREE download of their program to anyone who blogs about their software in any blog/forum/twitter/facebook, etc, and contacts them with a link to the review. If interested, please contact me for their email address.
This post was written for SnapIt who provided the free download in exchange for my honest review.
Launched in 1984, Extra was Wrigley's first sugar-free gum offering in the U.S. Extra gum is known for its incredible, long-lasting flavors that can trigger a state of perpetual enjoyment.
This month Extra just introduced Dessert Delights to its portfolio. Inspired by real desserts, the variety includes Mint Chocolate Chip, Strawberry Shortcake and Key Lime Pie.
My Take on the Products
My family likes to chew gum, not only because it tastes great, but also there are many other benefits to doing it as well. I have to be honest, I do have a sweet tooth and like dessert, even though I know I should not. This gum is amazing because it does taste like the desserts that they are supposed to taste like, and the flavor lasted a very long time.
I am not the only person in my family who enjoyed it, but all members of the Divadom loved the flavors and they wanted me to buy more of the packs.
If you are looking for a decadent treat, look no further than these little sticks of dessert, I mean gum!
This post was written for Wrigley's who provided the complimentary product in exchange for my honest review.