It's Aloha Friday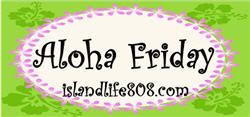 I'm putting this up a little early since I'll be on the first plane tomorrow morning to attend my Grandmother's funeral in Maui. Words cannot express my gratitude for all your kind words and prayers. Whoever says you can't make real friends in the blogging world is crazy!
Anyway, welcome to this week's edition of Aloha Friday! Today's question is . . .
Do you attend your high school reunions? Why or why not?

One random participant will win a 2008 Hawaiian Pictorial Wall Calendar! Don't forget to visit each other and make new friends, too!
About the author:
Kailani is the owner and founder of An Island Life. You'll find her sharing her daily life as a mother to 3 wonderful daughters, working as a flight attendant, and living a blessed life in Hawaii.