This giveaway is now closed. Thank you for your participation.
The winner is Angela of Seven Dogs and A Baby. Congratulations!

When I first saw the work of J. AUSTIN Ryan Designs, I was in love. And you will be, too.
"Marnie creates her images with complete satisfaction. Her new line of art is fresh and new. With its clean lines and bright colors, J. Austin Ryan delivers a unique style of its own. J. Austin Ryan brings modern, retro, and classic style art into any home or business. All designs are hand-painted and done in small batches. With this in mind, quality products are used and nothing is sent out unless it is perfect. All of the art is sealed, signed by artist Marnie Vollenhals, and limited editions are numbered."
Some of my favorite pieces of work are: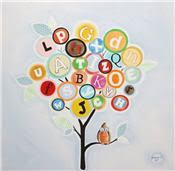 Alpha Tree

Birds on Parade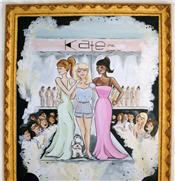 Kate Series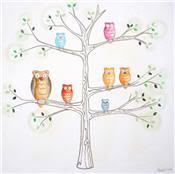 Now it's your turn! J. AUSTIN Ryan Designs has generously donated a brand new piece of work entitled "House of Owls" on a 12″ x 12″ canvas to one very lucky person. To enter, just stop by J. AUSTIN Ryan Designs before April 7th and view all her fabulous pieces. Then come back and mention which one is your favorite (excluding the ones above). That's it! A random winner will be selected and notified on April 8th. The winner will then have 3 days to claim their prize from the date of notification.
To earn extra entries, just subscribe to my feed and/or mention this giveaway on your blog with a link back here and to J. AUSTIN Ryan Designs. Please let me know if you're doing the extra credit so I can make sure you're entered properly.
This giveaway is open to U.S. addresses only. Good luck!
For more of my current giveaways, please see the sidebar.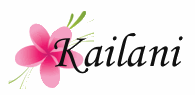 Thank you to everyone who were concerned about my family when they heard the news that Aloha Airlines will probably cease operations at the end of Monday's work day.
Thankfully, DH and I do not work for them but we have many friends and family who do. It's a sad day for everyone especially since they only announced they were filing for Chapter 11 Bankruptcy protection 2 weeks ago. No one, especially the 1900 employees, even imagined they would find themselves without a job so soon. No one had time to react let alone start looking for a way to survive financially. Our neighbors who both work for Aloha recently had a baby and purchased a brand new home. I don't know what they'll do now.
Aloha Airlines has been flying between the islands and to the West Coast for the last 61 years. They have a proud history in the islands and it just won't be the same without them. My father worked there for 40 years so I've pretty much grown up with Aloha. It was because of them that we were able to travel so much and made me decide on a career in the travel industry.
My prayers go out to all the families affected by this sad event.
Comment Spotlight by Sheila of Go Visit Hawaii:

Kailani – I'm so glad you and your husband aren't directly effected by this bad news. Like you, I never thought operations would cease so quickly. I feel so bad for the Aloha employees and all the extended suppliers and network whose jobs depended on the airline. It's a sad day for Hawaii and for those who love Hawaii.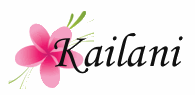 Welcome to this week's edition of Aloha Friday.
In Hawaii, Aloha Friday is the day that we take it easy and look forward to the weekend. So I thought that on Fridays I would take it easy on posting, too. Therefore, I'll ask a simple question for you to answer. Nothing heavy or too thought-provoking.
If you'd like to participate, just post your own question on your blog and leave your link below. Don't forget to visit the other participants! It's a great way to make new bloggy friends!
Today's question is:
What is your favorite breakfast food?
If I have the time, I love to make Sweet Bread French Toast. If not, then it's cereal – the sugary the better!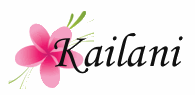 While I was away on vacation, the giveaway requests really started piling up. So, in hopes of catching up with these generous sponsors and to bring some amazing products to you, beginning Monday, March 31st till April 6th, I'll be posting daily giveaways here at An Island Life.
Here's a sneak peak at the fabulous online boutiques participating:
J. AUSTIN Ryan Designs
DoodleBug Web Designs
Fine Art of Family Jewelry
Flip Clips
Glamorous Girl Accessories
Babycake Boutique
BeanSoup
Mark your calendars, subscribe to my feed, and hope to see you here! Good luck!