This giveaway is now closed. Thank you for your participation.
The winners are God Gave Me You and Three P's in a Pod.
Congratulations!
One of the first things you'll notice about the Ju Ju Beane Boutique site is how fun and colorful it is! However, if you take a closer look, you'll find a treasure of wonderful items for all the special children in your life.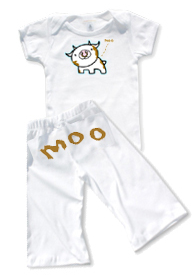 "The Ju Ju Beane Boutique features boutique children's clothing, gifts, and accessories with playful designs and casual styles for babies and toddlers from today's most popular designer labels. Fun and imaginative children's clothing, gifts, and accessories are our passion; whether it's a beautiful toile dress from Baby Nay for the girls, a sporty cargo pant set from Dogwood for toddler boys, the softest organic cotton layette for baby from Scout, or a sophisticated twist on bib and burp cloth sets from Upsiedoodle; we carry a large assortment of baby boutique clothing and toddler designer clothes, baby gifts, and accessories."
One of my absolute favorite items is the Aloha Girl: Waves Canvas Wall Art. This tropical print is very feminine without being too girlie. It's the perfect accent to any girl's room, one that will be admired for years to come. In fact, I wouldn't mind having one for myself!
Or how about this adorable Flower Pot Fill and Spill toy? Any child would love the bright colors and happy faces! To keep on top of their latest products, just sign-up on their mailing list or subscribe to their blog.
Now the fun part! Ju Ju Beane Boutique is generously giving away two $25 gift certificates! To enter, just stop by Ju Ju Beane Boutique before January 3rd and take a look around. Then come back here and mention what your favorite item is. That's it! A random winner will be selected on January 4th.
As usual, you may receive extra entries by subscribing to and/or posting about this giveaway on your blog with a link back here and to Ju Ju Beane Boutique. Please let me know if you're doing/did the extra credit so I can make sure you're entered properly.
This giveaway is open to everyone world-wide! Good luck!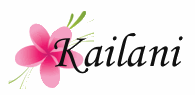 Welcome to this week's edition of Aloha Friday.
Today's question is:
What's one thing you'd like to improve on in 2008?
For me, it would probably be my organizational skills. I've always prided myself for staying on top of things but 2007 found me lacking. With all of Girlie Girl's extra curricular activities, household responsibilities, being away for days at a time due to layovers, and blogging deadlines, I've been a little overwhelmed. I need to figure out a system to keep track of everything. That is my goal for 2008.
If you'd like to join us, just post your own question on your blog and leave your link below. Don't forget to stop by and visit the other participants!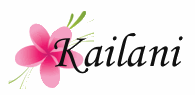 Hope everyone had a wonderful Christmas filled with lots of love, laughter, and wonderful memories!
We attended a party at my parents house on Christmas Eve with about 30 other family members. For some of them, this is the only time of the year that they get to see each other. It was so nice to catch up with everyone's lives.
Christmas morning was spent sleeping in a little and then opening all the gifts. This was the first year that Baby Bug was old enough to open her own presents and she had a blast! The in-laws stayed over and were present for this event. Of course, MIL had to put in her two cents about how the girls received too many gifts. She doesn't understand that I can't exactly tell my friends and family not to buy them anything. Then she insisted that they choose only one toy to play with and put the rest away for another time. Once they returned to Maui – about lunchtime – the girls and I opened EVERYTHING up and played for the rest of the day.
As expected, the girls got their #1 Santa requests and even I got a few things on my wish list. Here they are:
Girlie Girl received a pink digital camera
Baby Bug got her Littlest Pet Shop (no surprise here!)
DH got another iPod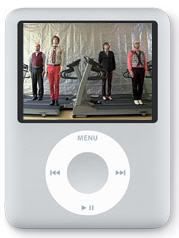 And I got a Canon Rebel XTi 400. Actually, I got this as an early gift and have been using it for the past month now. Love it!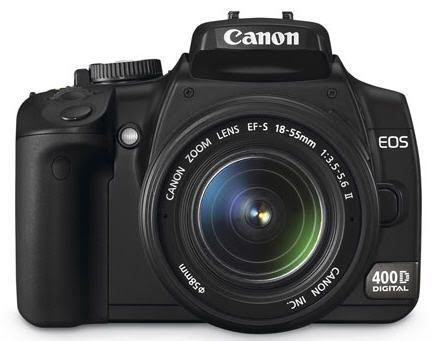 I also received a pink Nintendo DS Lite to play on the plane during our break time. Pretty cool, huh?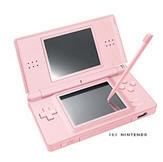 What about you? What are some of the favorite gifts that your family received this year?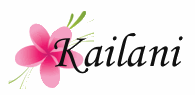 Hope Santa brings you everything your heart desires!
From our family to yours . . . Mele Kalikimaka!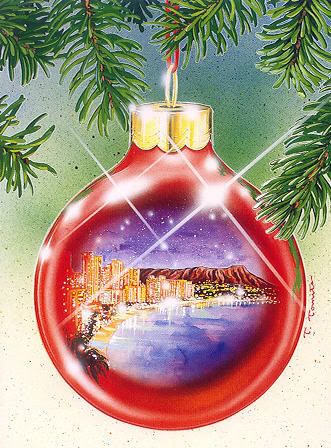 12 Days of Christmas Hawaiian Style by Pure Heart